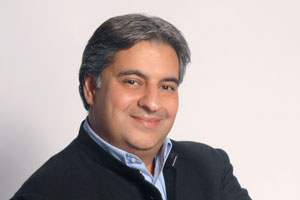 Rohit Talwar is an award-winning speaker on future insights and strategic innovation, and at Future Travel Experience 2011, he will deliver a thought-provoking presentation titled "Airport 2030 – Reinventing the Passenger Experience".
Author of Designing Your Future (published in 2008), Rohit has led futures research, scenario planning and strategic consultancy projects for clients in aviation, travel and tourism, telecommunications, technology, pharmaceuticals, banking, environment, food and government sectors.
Clients include 3M, Amadeus, BBC, BT, BAE, Bayer, De Beers, DHL, EADS, Electrolux, E&Y, GE, Hoover, Hyundai, IBM, HG, ING, Incheon, Intel, KPMG, M&S, Nakheel, Nokia, Nomura, Novartis, OECD, Orange, Panasonic, Pepsi, Pfizer, PwC, Samsung, Shell, Siemens, Symbian, Travelport and Yell.