From pre-board screening to automated boarding to immigration, AOptix InSight iris recognition is fast, accurate, and hassle free.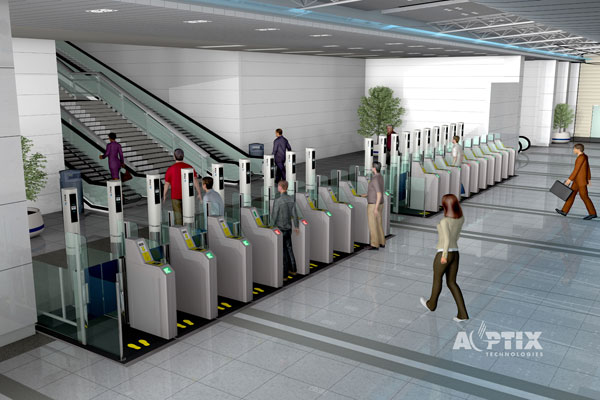 Iris recognition has long held the promise of being the most accurate biometric technology, but early systems were very difficult to use, especially for the diverse populations seen in a passenger terminal. Now, the AOptix InSight VM iris recognition system takes the accuracy of iris and makes it very easy to use. Working from 1.5 to 2.5 meters, passengers simply stand and look at the InSight for two seconds, and it automatically captures best-in-class iris images and offers a conclusive match result, quickly and accurately confirming passenger identity.
Because it is so fast, accurate, and effortless, the InSight can play a key role in streamlining and automating the future travel experience, from international registered traveller programmes to pre-board screening to automated boarding.
Optionally coupled with an automated eGate, the InSight can help airlines, airports, and government authorities alike improve efficiency while increasing security.
AOptix is striving to improve the overall passenger experience and is working with customers to facilitate the growing demand for increased security measures. New this year at Future Travel Experience 2011, AOptix will be demonstrating an end-to-end eGate solution.
To enrol, simply look at the InSight system for a few seconds and receive your AOptix "boarding pass". Then walk over to the eGate to experience the future of aviation checkpoints.
Just place your barcode on the reader, look at the InSight system, and if the stored template matches, the gate will open.
Look for our InSight VM 2 meter iris recognition system integrated with a Kaba eGate at booth 32.  We're coupling conclusive passenger authentication with state of the art entrance control.
http://www.aoptix.com/iris-recognition/applications/aviation-security/airport-security-whitepaper