The inaugural Future Travel Experience 2011 was a huge success, with more than 400 delegates from 33 nations attending the workshops and conference at The Westin Bayshore in Vancouver. In excess of 30 exhibitors took the opportunity to showcase their latest solutions and services in the FTE 2011 exhibition. Delegates were also treated to an oustanding social programme, which included an ice scuplting performance and a dolphin show at Vancouver Aquarium.
Here's our picture report from FTE 2011:
FTE Workshops
Hundreds of delegates attended the two interactive workshops exploring the viability of self-boarding and CUPPS (Common Use Passenger Processing Systems). The Self-Boarding Workshop – which addressed the question: 'Is self-boarding the future of the boarding process or an unnecessary novelty?' – included presentations from Japan Airlines' Hideyuki Isomura, Las Vegas McCarran International Airport's Samuel Ingalls, and Bart Van Der Steen from Royal Boon Edam International. Meanwhile, in the CUPPS Workshop, Ingalls was joined by Lufthansa's Thomas Jeske to put across the case for CUPPS, while Shawn Richards, CEO & Founder of Ink Aviation, and Betros Wakim, CEO & CTO of Air IT, presented alternative approaches.
Welcome Reception & Exhibition
A performance by Fear No Ice, the world's first and only ice sculpting company, was the highlight of a spectacular Welcome Reception, which took place in the exhibition hall. Kindly sponsored by Air Canada, the Welcome Reception also marked the opening of the exhibition, which attracted more than 30 industry-leading companies, including the likes of 3M, Access IS, Arinc, Intermec, Brock Solutions, Kaba, NCR, Sita and VidTroniX.
Conference
The FTE 2011 keynote address was delivered by renowned global futurist Rohit Talwar, who outlined his vision for the world in 2030 and how airports, airlines and the travel industry as a whole can reinvent the passenger experience to cater for future demands. Dee Waddell, Group CIO, Amtrak, was the Day 2 keynote speaker, while Air Canada exclusively launched their new mobile booking application. Delegates also heard from speakers from the likes of Google, Qantas, YVR, Air France, Air New Zealand, TSA, CATSA and many more during the two-day conference.
FTE Awards
Seven organisations were recognised for their outstanding efforts to improve the passenger experience at the first Future Travel Experience Awards.
The winners were:
Best Check-in Initiative – Qantas
Presented to Gabriella D'Alessandro, Head of IT, Qantas, by Dee Waddell, Group CIO, Amtrak.
Best Baggage Initiative – Amsterdam Airport Schiphol & KLM
Presented to Marit Gangsaas, Advisor Terminal Logistics, Schiphol, and Victor Vaessen, Manager Product Development, KLM, by Carlos Garcia, VP Travel Services & Guest Logistics, Carnival Cruise Lines.
Best Initiative at the Gate – Lufthansa Airlines
Presented to Thomas Jeske, Senior Manager Common Use, Lufthansa, by Ryan Ghee, Editor, Future Travel Experience.
Best Arrivals Experience – Christchurch International Airport
Presented to Geoff Eban, General Manager Terminal Development, Christchurch International Airport, by Todd Grace, Strategy Manager – Airports, Air New Zealand
Best Use of Mobile Technology – Air France KLM
Presented to Manuel van Lijf, Manager, R&D Solutions, Air France KLM, by Rohit Talwar, global futurist and FTE 2011 keynote speaker.
Best Airport Security & Immigration Experience – Vancouver International Airport
Presented to Kevin Molloy, VP Simplified Passenger Travel & CIO, Vancouver Airport Authority, by FTE 2011 lead sponsor Arinc, represented by Michael Saunders, Senior Director of Airport Systems, Sales & Marketing.
Gala Evening
Vancouver Airport Authority, the host of FTE 2011, staged a memorable Gala Evening at the Vancouver Aquarium in the world-famous Stanley Park. Guests were treated to an impressive array of food and drink and after being invited to take a look around the aquarium, a dolphin show was held exclusively for FTE 2011 delegates.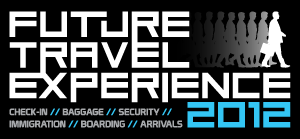 Future Travel Experience 2012
We are delighted to announce that Future Travel Experience 2012 will again take place at The Westin Bayshore in Vancouver, hosted by YVR, from 5-7 September.
Further information on next year's event will be provided in the coming months. The best way to keep up-to-date with the latest conference developments, as well as the latest news on enhancing the passenger experience on the ground, is to subscribe to our newsletter.