Seven organizations were yesterday recognized for their outstanding efforts to improve the passenger experience at the first Future Travel Experience Awards, which were presented at Future Travel Experience 2011, at the Westin Bayshore in Vancouver.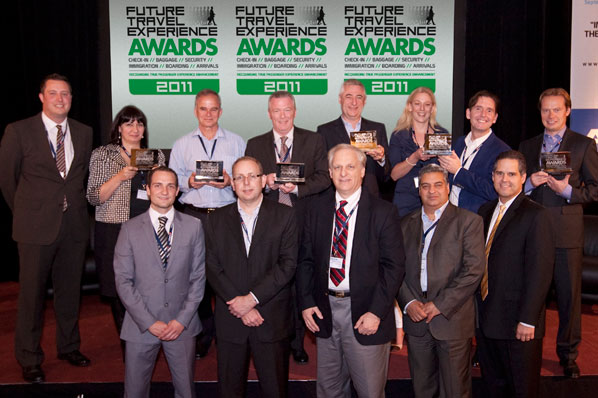 Future Travel Experience Awards winners:
Best Check-in Initiative – Qantas
Qantas was awarded the Best Check-in Initiative for its brave and bold approach to enhancing the entire check-in process. The Next Generation Check-In Program, which has been rolled out across Qantas' domestic network, has embraced RFID (Radio Frequency Identification) technology to allow passengers to check-in within just five seconds using the innovative Q Card, while permanent, re-useable RFID bag tags have also been developed. The award was presented to Gabriella D'Alessandro, Head of IT, Qantas, by Dee Waddell, Group CIO, Amtrak.
Best Baggage Initiative – Amsterdam Airport Schiphol & KLM
Amsterdam Airport Schiphol and KLM were jointly awarded the Best Baggage Initiative for their permanent implementation of self-service bag drop facilities. Following a successful trial period alongside BagDrop Systems, six of the latest generation BagDrop units entered operation in August, and plans are in place to implement 12 further units for KLM and SkyTeam partners in February 2012. The BagDrop units are already allowing passengers to check their bags in themselves within just 30 seconds. The award was presented to Marit Gangsaas, Advisor Terminal Logistics, Schiphol, and Victor Vaessen, Manager Product Development, KLM, by Carlos Garcia, VP Travel Services & Guest Logistics, Carnival Cruise Lines.
Best Initiative at the Gate – Lufthansa Airlines
Lufthansa won the Best Initiative at the Gate Award for its widespread implementation of next generation Quick-Boarding-Gates (QBG) across German airports. Eight years after the initial self-boarding implementation at Munich Airport, the latest QBGs have recently been deployed at Frankfurt Airport to further accelerate the boarding process, and plans are in place to implement 50 more self-boarding gates at German airports in the next three years. The award was presented to Thomas Jeske, Senior Manager Common Use, Lufthansa, by Ryan Ghee, Editor, Future Travel Experience.
Best Arrivals Experience – Christchurch International Airport
New Zealand's Christchurch International Airport won the Best Arrivals Experience Award following its implementation of the innovative 'Sensory Arrivals Experience'. Beginning at the airbridge corridors and running right through to the Customs area, passengers are treated to a multi-sensory experience designed to reflect New Zealand's South Island. The award was presented to Geoff Eban, General Manager Terminal Development, Christchurch International Airport, by Todd Grace, Strategy Manager – Airports, Air New Zealand.
Best Use of Mobile Technology – Air France KLM
Air France KLM won the Best Use of Mobile Technology Award for the way it has embraced the use of smartphones through apps, automatic check-in and the free mobile service – Air France Connect – which automatically informs passengers of any changes to their flight details, such as delays, change of boarding gate and delayed baggage. The award was presented to Manuel van Lijf, Manager, R&D Solutions, Air France KLM, by Rohit Talwar, global futurist and FTE 2011 keynote speaker.
Best Airport Security & Immigration Experience – Vancouver International Airport
Vancouver International Airport won the Best Airport Security & Immigration Experience Award for its unwavering approach to simplifying the border processing experience. The dedication to enhancing the security and immigration experience for passengers is highlighted by the expedited trusted traveler program – NEXUS – which was developed along with Canada Border Services Agency and US Customs and Border Protection, and more recently, the implementation of Automated Border Clearance kiosks for returning Canadian residents, offering average processing times of less than one minute. The award was presented to Kevin Molloy, VP Simplified Passenger Travel & CIO, Vancouver Airport Authority, by FTE 2011 lead sponsor Arinc, represented by Michael Saunders, Senior Director of Airport Systems, Sales & Marketing.