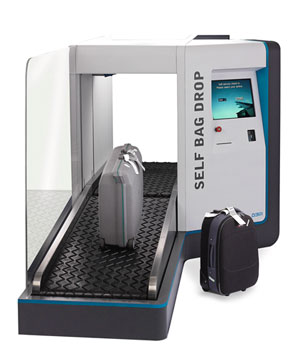 At a time when passengers require more services, and airlines and airports are exploring new ways to process passengers, IER, which continues to design innovative solutions for extending the self-service experience, will unveil the latest airport self-service solution with the self-service baggage drop-off.
Once self-bag drop is part of your process, passengers will finally see the value of self-service, while getting rid of the last queue at counters to drop their bags.
As an expert in conception, deployment and operations of automated solutions, the IER solution fulfils the opportunity to design the baggage drop off area, allowing a smooth integration in the environment, process and marketing strategy.
By mastering the solution from the beginning to the end, IER allows you to get the full benefits of self-service bagdrop. Be sure to know all the parameters from the start, as there will not be a one fits all solution. IER shares its experience: airport driven process (ACRIS)/airline IATA CUSS application, active/inactive bagtag, payment on kiosk, re-use of existing conveyor, process homogeneity, counter mix use, shared position with dedicated branding, bag exception handling.
Be it for a full dedicated mode, or a position that must be used partially as a counter or a self-baggage drop-off, IER brings a flexible solution that adapts to its environment.
IER is breaking ground with a new approach separating form and functions. A highly flexible technical structure is supporting all the hardware and sets minimum constraints on its environment. This allows unleashed creativity for designers to reflect the innovation and the brand of the stakeholders while keeping the creativity impact cost to a minimum.
Completing its range of mobile, web and self-service kiosk applications, IER has developed a multi-DCS application able to intuitively drive a bag drop down to 10 seconds. This CUSS application can easily integrate specific development, and allow balancing of locally and remote (DCS) handled rules management.
Implementing a self-baggage drop is becoming the key-stone in changing the pre-security process. The key factors are:
Staff new role switching from doing to supporting, while enhancing retail;
Create an open area with no queue experience;
Validate with all stakeholders (security, baggage handling systems, staff and passengers).
So, get rid of the last barrier for a self-service check-in, implementing IER self bag drop solution, an unmatched flexible and expandable solution.
For more information, click here.