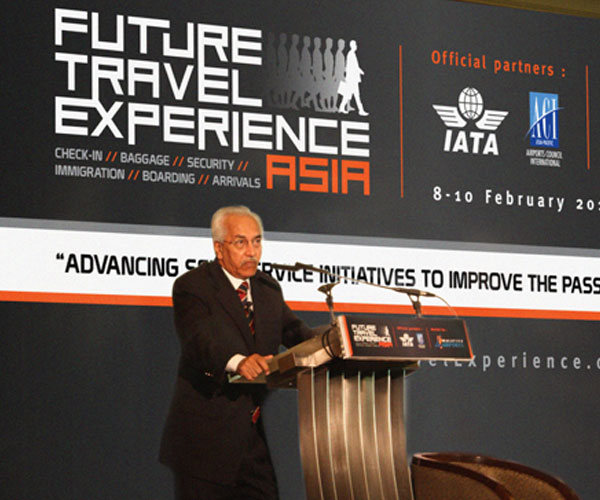 The conference, delivered in partnership with IATA and ACI Asia-Pacific, included a keynote from Tan Sri Bashir Ahmad, Managing Director, Malaysia Airports and President, ACI Asia-Pacific, plus presentations from Emirates, All Nippon Airways, IATA, SAS Scandinavian Airlines, AirAsia, Tokyo International Air Terminal, Aéroports de Paris, Cathay Pacific Airways, Air France KLM, Amadeus, Changi Airport Group, Star Alliance, and Australia Customs and Border Protection Service.
The conference also placed an emphasis on the long-term view to enhance the passenger journey thanks to two enlightening presentations from Mikael Lind, Research Manager, Sustainable Transports, Viktoria Institute and Project Manager – Future Airports, and Rohit Talwar, CEO and Founder, Fast Future Research, who revealed with Patricia Simillon, Head of Airlines Operations Strategy, Amadeus, some of the initial findings of a major new study around the airport experience for 2025, which will be launched later this year.
The study, which was previewed at the event, was based on a number of interviews with both industry experts and passengers, and reveals what travellers like most and least about the current airport experience, the developments they would like to see in the future and how airports must adapt to survive.
Talwar said: "The study outlined that due to advanced automation which will speed passenger processing through the airport and reduce the amount of time passengers spend there, airports will have to be far more creative to maintain and grow their commercial revenues. As a result, 41% of respondents said they expect new groupings, potentially involving companies from outside of the industry with track records of successfully delivering leisure and retail propositions, to manage the delivery of the total passenger experience."
Simillon added: "The majority of the passengers surveyed expect airports to give a sense of place, reflecting local culture to truly make the airport and flying part of their total journey experience. It is clear that this enhanced total trip experience would only be made possible with an active collaboration of all the players in the airport ecosystem."
Further to these findings and the emerging consensus that collaboration is needed between stakeholders within the industry and beyond, we today announce that the theme of Future Travel Experience 2012, 5-7 September, Vancouver, hosted by Vancouver Airport Authority will be:
"Advanced collaboration to create a seamless passenger experience".

Key messages from FTE Asia 2012
"Technology and innovation are vital to improving the passenger experience."

Tan Sri Bashir Ahmad, Managing Director, Malaysia Airports and Regional President, ACI Asia-Pacific
"The passenger needs to feel that they have not just been funnelled from organisation to organisation, they want a seamless experience. Collaboration is key to success."

Mikael Lind, Research Manager, Sustainable Transports, Viktoria Institute and Project Manager – Future Airports
"NFC-enabled mobile phones will become a focal point of travelling with SAS."

Per Wahlstedt, Director Product Strategy & Development, SAS Scandinavian Airlines

"Self-service in Asia is not a matter of if it will happen, but when and how."

Mike Chew, Director Airport Services and Reservations, Star Alliance
IER presented the innovative Self Bag Drop system in Asia for the very first time.
"We already have two projects on the go where we will be deploying the Self Bag Drop system in the next few months. One of these projects is in the Asia-Pacific region and one is in Europe."

Franck Vitte, Regional VP – Asia and Middle East, IER
SITA announced that it has become an AOptix Value Added Reseller partner. The company will leverage the AOptix Insight iris recognition and face biometric technology to deploy automated solutions to provide identity screening at airports and borders.