At last week's highly successful FTE 2012 event, which was attended by almost 450 senior executives from 34 countries around the world, we made some major announcements about our future activities that we would like to share with all of our followers.
1st Future Travel Experience Europe
Firstly, we officially announced that the 1st Future Travel Experience Europe Conference will take place as part of ACI Airport Exchange hosted by Schiphol Group in Amsterdam from 26-28 November.
We have been inspired by the event's 'Airports 2020' theme and will deliver an exciting conference around the subject of 'Differentiating your passenger experience in an increasingly automated environment'. The full programme will be announced next week, but we are delighted to confirm that the keynote speaker will be Pieter Elbers, Managing Director & COO, KLM. The show is expected to attract over 2,000 visitors thanks to the large exhibition, four conferences, three Schiphol-led interactive forums, two airport tours, two luxury social events and the wealth of networking and learning opportunities taking place at the show.
FTE Asia to be held in HK, China
We also announced that the third Future Travel Experience Asia event will be taking place in China for the first time at AsiaWorld-Expo, Hong Kong from 7-9 May 2013.
Delivered in partnership with IATA, ACI Asia-Pacific, Hong Kong International Airport (HKIA), Cathay Pacific and Dragonair, our goal is to stage an exciting conference, exhibition and social programme developed for travel industry stakeholders across the Asia-Pacific region and beyond, where traffic growth is immense.
Growth in China is particularly explosive right now and the travel facilitators across the country are developing facilities and strategies that need to serve a purpose for many decades to come. They need to get that planning right in the short term to ensure the best possible passenger experience, and the best possible return on the technologies and facilities they invest in. China can benefit by learning from the best around the world, and that same global audience is keen to influence China to ensure there is a standardised approach for passengers and industry stakeholders in the areas we focus on. We will use Hong Kong and HKIA as the unique bridge between all parties involved.
We are convinced this will be a truly meaningful and beneficial summit for all involved, and look forward to your participation.
FTE 2013 returns to Vegas; new 'Up in the Air' conference stream announced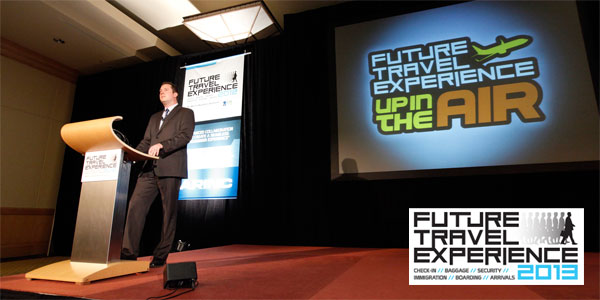 Finally, we were also delighted to announce that our Global Show – FTE 2013 – will return to where it all began – Las Vegas. From 4-6 September 2013, McCarran International Airport will host us once more to showcase its impressive new Terminal 3 and the largest remote check-in programme in the world.
You can expect FTE 2013 to again deliver an outstanding learning and networking agenda on how to improve the passenger experience on the ground through the conference, exhibition, and social programme, but in an exciting new development there will also be a conference stream running concurrently focusing on 'Improving the passenger experience in the air'.
Entitled FTE 'Up in the Air', after the film of the same name set to the backdrop of airline loyalty programmes, the new conference will play an important role in shaking up the passenger experience in the air, which has evolved very little in the last 20 years, unlike on the ground. We will primarily focus on big topic issues and particularly how technology can help improve the passenger experience onboard. The key target market will be airlines, aircraft manufacturers, government agencies, consultants, design agencies and solution providers.
We will support this effort through introducing coverage on the Future Travel Experience website and newsletter regarding Onboard innovation, and we welcome any input on how we can help shake up this area of the business.