Live demonstrations of cutting-edge technologies and services relating to the passenger and baggage processing sector are key to understanding the latest developments in the field. Future Travel Experience Asia 2013 hosts the largest exhibition of passenger-focused technologies and solutions ever staged in Asia.
In the first part of our Exhibition Preview, we round-up what you can expect to see from Damarel, Desko, ICM Airport Technics, IER, Custom Engineering and PrehKeyTec.
Damarel (Exhibition Booth #10)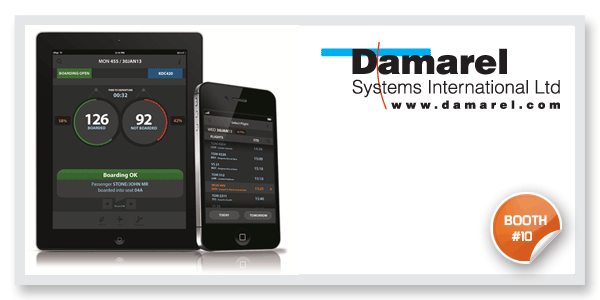 Damarel will be showing the latest in passenger and ground handling software, including the brand new EMBARKmobile – a truly portable solution for airline passenger gate boarding. Designed for the latest generation of tablets, smartphones and PDAs, EMBARKmobile supports the devices you want to use, where you want to use them.
Also of interest will be both the Vanguard (security system) and Embark (e-gate compatible boarding), now supporting self-service operations. Our ever popular, low-cost L-DCS and FiNDnet Suite will also be on show.
With worldwide installations, Damarel is continuing to deliver class-leading, cost-effective solutions to improve passenger throughput, increase efficiency and reduce costs.
For further information go to www.damarel.com
DESKO (Exhibition Booth #30)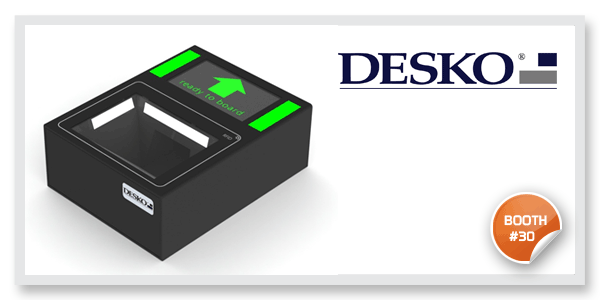 DESKO has been designing and manufacturing hardware and software solutions for automated data entry for over 20 years. DESKO has your ideal solution within the fields of Passport & ID Capture, Paperless Transactions & Electronic Documents.
This year we will show our new BGR 504 Pro which is based on the existing and well established DESKO GRSK 504 gate reader series. The new BGR comes in the same sized envelope and provides at a minimum serial or USB connections. It is therefore completely plug and play with existing installations both from a mechanical and an interfacing point of view.
Like its well-proven predecessor, the DESKO BGR 504 Pro is based on a robust flatbed scan technology for the highest, super-fast barcode read rates. Because of its barrier-free flatbed design the BRG 504 Pro allows for user-friendly mobile boarding pass reading from smart phones and tablets.
A large colour LCD display for text and picture, multicolour LEDs for clear visual feedback and an adjustable volume control (integrated buzzer and/or external buzzer) for acoustic feedback make the BGR 504 Pro the ideal device for fast and trouble-free boarding processes.
DESKO's smart device approach and optional features like NFC boarding guarantee a future-proof infrastructure and protect your investment.
Come see us and find out more about the new BGR 504 Pro at Booth 30!
For further information go to www.desko.de
ICM Airport Technics (Exhibition Booth #22)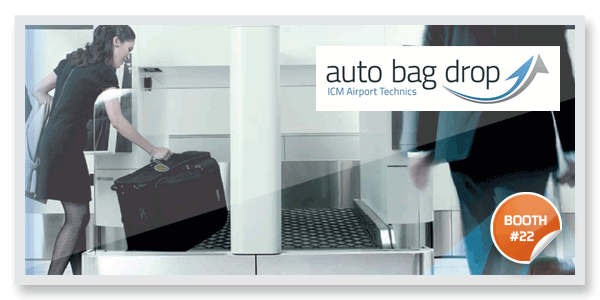 A leader in self-service bag drop and baggage handling solutions.
ICM Airport Technics operates around the world, delivering the perfect integration of process, technology and usability in baggage automation systems for airports and airlines- all with full service support.
Our experienced professional services and support teams have a proven track record in implementing self-service bag drop solutions with over 12 million bags processed and more than 84 Auto Bag Drops currently live in nine airport terminals.
Our solutions have revolutionised baggage drop off and set industry benchmarks in bag drop transaction times and throughput. The result is reduced operational costs for airports and airlines, and an improved passenger experience.
ICM Airport Technics is well positioned to provide improved baggage handling solutions for any client. We are part of the Unitechnik Group, a worldwide logistic system integrator with offices in Germany, Australia, China, USA, UK and the United Arab Emirates.
At FTE Asia we will be demonstrating our newest Auto Bag Drop series, as well as presenting our Common User Self-Serve (CUSS) platform solutions.
For more information on ICM self-service bag drop solutions go to www.autobagdrop.com.au
IER (Exhibition Booth #28)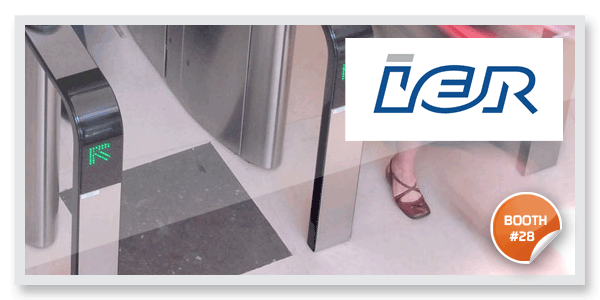 IER is a French industrial designer of solutions to improve the flow of goods and people operating worldwide and has been a key player in the air transportation industry for over 40 years, providing a wide range of solutions to safely and quickly process passengers and baggage.
At FTE ASIA 2013, IER introduces the new IER 710 SlimGate, designed to automate operations at security checks and boarding. Featuring a streamlined design, the IER 710 SlimGate's swing door security entrance lanes combine high throughput with advanced passenger detection while providing a minimal footprint. IER also introduces its new expandable and future-proof self-service check-in kiosk, the IER 919. The IER 919 handles the self-tagging trend smoothly, provides ancillary services thanks to its PCI compliant chip & pin EMV payment, and extends the use of NFC phones at the kiosk for payment or identification. IER is also proud to announce the deployment of bag drop stations at Nice International Airport in France and of a pilot for a major airline in the USA.
Besides serving the air transportation industry, IER also develops new business processes and deploys innovative concepts focusing on five environments: warehouses, vehicles, sales outlets, public places and the roadway.
For further information go to www.ier.com
Custom Engineering (Exhibition Booth #24)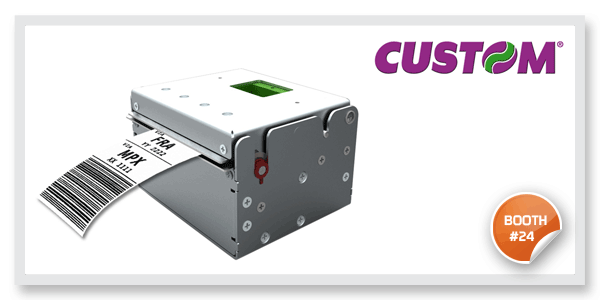 CUSTOM offers a wide range of ticketing printers for the Air Transportation Industry, including printers for boarding passes, bag tags, RFID printers/encoders and self-service and information kiosks.
In addition to supplying the technology, our dedicated partners assist in software integration, guaranteeing compatibility with all software platforms used in the ticketing sector.
With 20 years of experience in all possible tough environments of the airport industry, we supply innovative processes in scanning pre-printed barcodes on boarding passes, heavy-duty printers for bag tags and boarding passes and very fast printing processes.
The latest development from CUSTOM is the Triple Feeder, which is used in desktop and self-service CUSTOM printers. As the industry moves towards a new generation of slim kiosks, there is no space for three printers for printing boarding passes, bag tags and standard receipts. The Triple Feeder allows customers to manage three different types of tickets.
CUSTOM is proud to showcase at FTE Asia 2013 the new KPM180H, the smallest ATB and BT combined printer with excellent reliability specially designed for small check-in desks where the space is a major issue, or for very compact CUSS kiosks.
For further information go to www.custom.biz
PrehKeyTec (Exhibition Booth #03)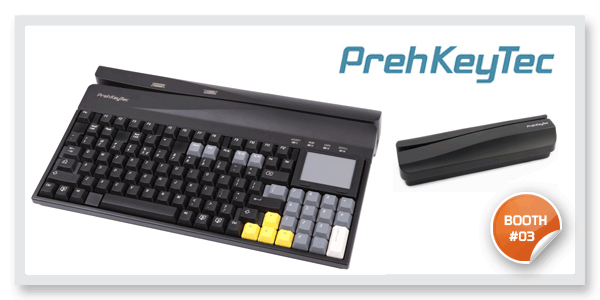 PrehKeyTec GmbH is a leading international manufacturer of high-quality data input systems. Products include modular standard keyboards which are particularly suitable for professional use due to their high level flexibility and extreme reliability.
Especially for the airport industries the keyboard MCI 111 A was designed. This alphanumeric keyboard is the ideal solution for fast and clear input of machine-readable data. Up to three independent readers provide the user with support for fast data entry. The OCR reader for reading ID and similar documentation, the magnetic card reader for reading credit cards or access cards, and the 2D barcode reader for recording labels, tickets, or similar items. The ergonomic design has been selected to achieve optimum adaptation to human motor function. The two internal readers operate bi-directionally, so that documents and cards can be fed through the reader in both directions. This means that the input device is ergonomic and easy-to-use for both right and left-handed users. IP 54 spill-water-protection and life time of more than 30 million actuation for each key position ensure a servce-free use for years. This keyboard is the ideal solution in all situations in which fast recording of ID documents and credit card documentation is required.
For further information go to www.prehkeytec.com