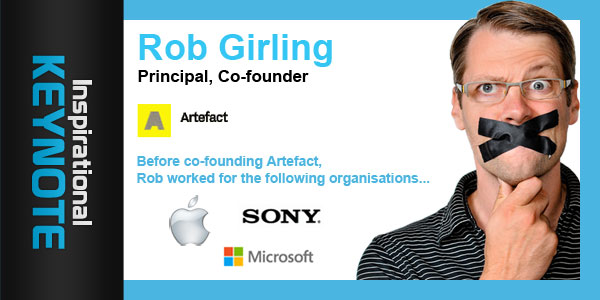 We are thrilled to confirm that Rob Girling, Co-founder and Principal of award-winning technology product design company Artefact, will deliver the keynote address at FTE Global 2013, 4-6 September, Las Vegas. Rob, who has previously worked for Apple, Microsoft and Sony, will deliver an address entitled 'To infinity and beyond: Imagining the future of travel'. This will explore how new innovations such as wearable technology can play an important role in shaping the travel experience of the future.
Rob is responsible for setting Artefact's strategy and vision – to design exciting products and experiences that inspire positive changes in human behaviour – and his scope of work touches everything from interaction design experience, to natural user interfaces, motion graphics and 3D design.
AirportONE to showcase AVA at FTE Global 2013
We are also delighted to confirm that AirportONE has joined the leading line-up of solutions providers that will be presenting their latest innovations in the FTE Global 2013 Exhibition.
AirportONE will be showcasing the Airport Virtual Assistant (AVA), an avatar that can be placed at airport checkpoints to deliver key messages to passengers. AVAs are already in place in New York JFK, LaGuardia, Long Beach and Newark Liberty airports.
Patrick Bienvenu, Principal, AirportONE, said: "Most passengers are simply amazed by her. Airports believe that they result in great value as first of all, passengers really pay attention to the avatar and secondly, the avatar's much more effective in delivering a clear and consistent message over and over in the way you want it delivered and when you want it delivered.
"In most situations, the avatar will supplement the work that people do and free them up to do more complex tasks. For example, in the security line the avatar will take the place of an agent repetitively advising passengers to prepare for security screening by removing their belts and shoes. The avatar then frees the agent up to do more important complex human tasks such as screening passengers for potential threats or other more important items."
» View the FTE Global 2013 Exhibition floorplan
» Find out more information about exhibiting at FTE Global 2013