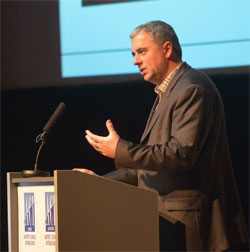 We are delighted to announce that Stewart Wingate, CEO, Gatwick Airport will deliver a keynote presentation titled "Gatwick's passenger experience transformation journey: What we have done so far and what the future holds" at FTE Europe 2014. This will be the first of such announcements as each of our event partners – London Heathrow Airport, easyJet, London City Airport, British Airways, London Stansted Airport, as well as Gatwick Airport – will be given a prominent keynote platform ahead of each one of the conference sessions.
Their most senior executives will use this platform to share their most exciting passenger-focused initiatives on the horizon, and their views on what the industry as a whole could achieve in the longer term through technology, collaboration and innovation.
In addition, we are very pleased to confirm that Gatwick Airport will facilitate airport tours on the morning of Monday 3 March that will showcase all the innovation efforts that have been implemented to improve the passenger experience, such as utilising biometrics at check-in and immigration, new bag drop processes, family friendly security, and much more.