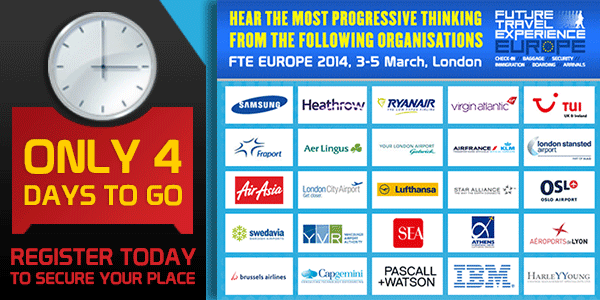 Future Travel Experience Europe 2014 is now just four days away and having had a sneak preview of a number of the presentations that will be delivered at the event, we can say with confidence that you will not want to miss out! Next week we are expecting to welcome more than 150 of the most innovative airlines, airports, suppliers and key travel industry stakeholders to the Park Plaza Riverbank London, where around 400 senior industry figures will gather to reveal their latest passenger-focused visions and debate how the passenger experience on the ground can be improved.
In addition to keynote presentations from Samsung European Enterprise Business Team, London Gatwick Airport, London Stansted Airport, Capgemini, London City Airport and Fast Future, the likes of Virgin Atlantic, Ryanair, Fraport, Lufthansa, Aer Lingus, AirAsia, Star Alliance, Swedavia, YVR and Air France-KLM will deliver insightful presentations on what they are doing to improve the travel experience for their passengers. The event will also host the official Heathrow T2 Symposium, an IATA Workshop and an outstanding social agenda.
In addition, FTE Europe 2014 will include an exhibition of the latest passenger-focused technologies and services, where the industry's leading suppliers will highlight their latest innovations.
» View the full FTE Europe 2014 agenda
» Register to attend FTE Europe 2014
» View the list of organisations already confirmed to attend