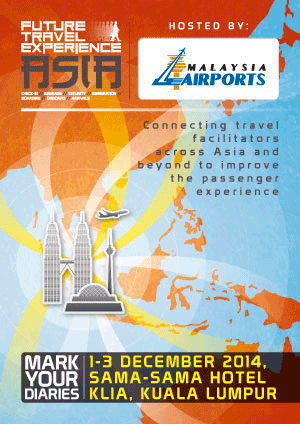 The conference agendas for FTE Asia 2014, which will take place in Kuala Lumpur from 1-3 December, have been launched and a number of the region's leading airports and airlines are already confirmed to speak.
FTE Asia 2014 will be the first regional FTE show to include two conference streams – 'On the Ground' and 'Up in the Air' – and the theme for this year's event is 'Transforming tomorrow's customer journey in Asia'.
Among the organisations confirmed to address delegates are: Malaysia Airports, Qatar Airways, Istanbul Grand Airport, Saudia, Dubai Airports, AirAsia, Star Alliance, airlinetrends.com, Jetstar, Oman Air, Vancouver Airport Authority, LIFT Strategic Design, Peach Aviation, SITA and Air France-KLM.
A number of companies are also confirmed to exhibit at the event, including Asia's largest low-cost carrier, AirAsia.
Also exhibiting their latest passenger-focused solutions and services will be the likes of Access IS, Rockwell Collins / ARINC Airports, Boon Edam, Custom, Damarel Systems, ICTS, IER, Kaba and PrehKeyTec.
More speakers, exhibitors and further details about the event will be announced in the coming weeks.