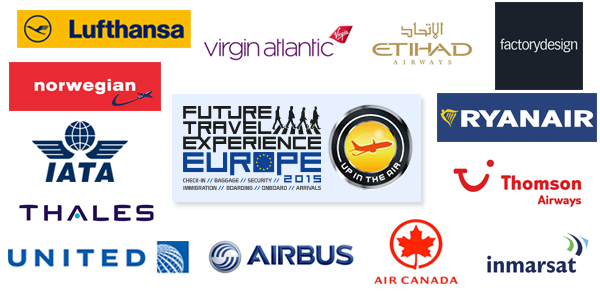 We are excited to launch the 'Up in the Air' conference agenda for FTE Europe 2015, which will take place at the Park Plaza Riverbank London from 2-4 February 2015, and which promises to be our biggest and best event for the European travel sector to date.
Keynotes from Lufthansa, Virgin Atlantic, Ryanair, Thomson Airways and Factorydesign
The theme of FTE Europe 2015 is 'Differentiation through passenger empowerment and personalisation', and multiple, big-name keynote speakers will outline their passenger experience plans and visions over the course of the three days. Among the confirmed keynote speakers are: Reuben Arnold, Brand and Customer Engagement Director, Virgin Atlantic; Sadiq Gillani, Chief Strategy Officer, Lufthansa; John Hurley, Chief Technology Officer, Ryanair; John Murphy, Managing Director, Thomson Airways; and Peter Tennent, Managing Director, Factorydesign.
Among the other industry-leading organisations already confirmed to share their passenger-focused strategies are: Norwegian Air Shuttle, United Airlines, IATA, Airbus, Etihad Airways, Air Canada, Inmarsat and Thales.
The many highlights in the 'Up in Air' conference include:
IATA Passenger Experience Workshop, including a dedicated focus on 'Onboard passenger-focused efforts'
The FTE Europe 'Understanding What Passengers Want' Forum
The Runway Girl Network/FTE Cabin Connectivity Forum Europe
Dedicated session on 'Progressive in-flight differentiation strategies between different passenger types'
The FTE end-to-end mobile and wearable technology symposium
Exciting social agenda, including Emirates Aviation Experience
FTE Europe 2015 delegates will also be able to take part in a unique social programme in the heart of London. As well as a visit to the Emirates Aviation Experience and a ride on the Emirates Air Line over the River Thames, there will be a Welcome Reception on the exhibition floor, and a 'Best of British' Gala Evening at Altitude 360 @ Altitude London, London's premier sky venue which offers jetliner views of the city.
The event will also include a dedicated 'On the Ground' conference stream focusing on enhancing the passenger experience on the ground, and an extensive exhibition of the latest solutions and services from the leading suppliers in the "passenger experience" field.
» View the full FTE Europe 'Up in the Air' agenda
» Register to attend FTE Europe 2015 – early bird discount expires on 19 December