Senior travel industry figures from 22 countries from across Asia Pacific and beyond came together in Kuala Lumpur this week for Future Travel Experience Asia 2014, where airports, airlines, suppliers, government agencies and other leading travel industry stakeholders shared their future visions and debated how to enhance the end-to-end passenger experience.
It was the first regional FTE show to include two parallel conference streams, with the 'Up in the Air' stream complementing the traditional 'On the Ground' conference. During the three-day event, a number of the industry's most passenger-focused organisations took to the stage, including AirAsia, Dubai Airports, Saudia, Malaysia Airports, Star Alliance, Qatar Airways, Malaysia Airlines, Air France-KLM, Airport Authority Hong Kong, Air New Zealand, IATA, Vancouver Airport Authority and many others. Here we round-up some of the key announcements, launches and discussion points from FTE Asia 2014.
Tony Fernandes visits FTE Asia exhibition on day AirAsia kiosks go live at klia2, plus bag drop, Google Glass, self-boarding gates, iBeacons and more.
Industry-leading vendors in the "passenger experience" field showcased their latest solutions and services that have been designed to help enhance the passenger experience. The FTE Asia 2014 exhibition attracted interest from high profile figures, including Tony Fernandes, Group CEO of AirAsia (who paid a visit on the day that AirAsia's new self-service kiosks went live in klia2) and Datuk Badlisham Ghazali, Malaysia Airports' Managing Director.
Ranging from self-service check-in kiosks and bag drop units, to Google Glass and iBeacons, a varied selection of the very latest products were presented to the numerous airlines and airports in attendance.
Qatar Airways: How we're delivering a five-star passenger experience on the ground and in-flight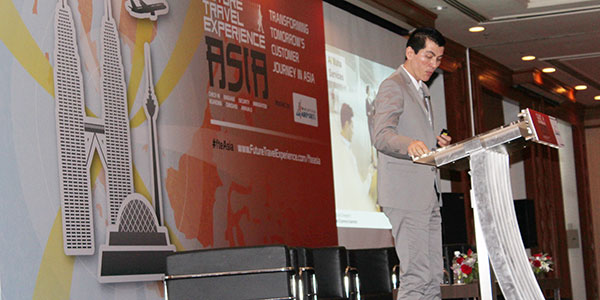 Rossen Dimitrov, Senior Vice President of Passenger Experience, Qatar Airways, provided a unique insight into how the carrier's central role in designing Doha's new Hamad International Airport has enabled it to create a "five-star end-to-end travel experience". Ranging from the self-service facilities and luxurious lounges on the ground, to its aggressive fleet expansion and investment in products and services across all classes up in the air, Dimitrov explained that Qatar Airways is now ideally positioned to deliver a "best in class" experience to all customers.
AirAsia and AirAsia X – the future of short-haul and long-haul air travel
During the three-day event, delegates heard from no fewer than five keynote speakers, including Azran Osman-Rani, CEO of AirAsia X, and Attila Emam, Group Risk and Government Relations, AirAsia. Osman-Rani explained how the long-haul, low-cost carrier is breaking the mould by offering premium-style products to the masses. "People say LCCs should only have economy seats," he said, "but we are defying convention." The carrier offers a flat bed premium seat, while passengers can also pay an optional fee to sit next to an empty seat if all of the seats have not been sold. He also said that a Skycouch-style seating option is being explored, which could allow for three economy seats to be converted into a flat bed. "Things you associate with full service carriers today are going to be delivered to the mass market in a much more efficient way," he added.
Meanwhile, AirAsia's Emam highlighted the importance of personalisation, stating that "the guest experience in the air is likely to become far more personalised". He added: "We should be giving passengers what they want, which is simple, straightforward travel propositions."
klia2 Symposium – a behind-the-scenes look at the world's largest purpose-built terminal for LCCs
Malaysia Airports hosted a one-of-a-kind klia2 Symposium, in which Datuk Badlisham Ghazali, Managing Director of Malaysia Airports, and other key members of the Malaysia Airports management team offered in-depth insight into the design, development and opening of the world's largest purpose-built facility for low-cost carriers. Ranging from an outline of how the company managed to bridge stakeholder expectations to an explanation of how the terminal enables operational excellence for each of the carriers operating from it, the detailed session touched upon all of the key passenger, airline and retail-focused elements of the landmark facility. Following the symposium, delegates were taken on a guided tour of klia2 to experience the facility first-hand.
Malaysia Airlines: Crisis management in the new digital age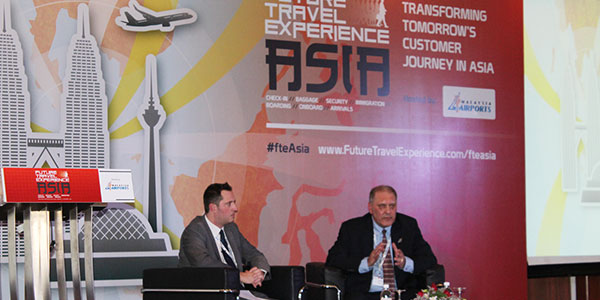 Malaysia Airlines' Senior Vice President, Head of Marketing & Products, Dean Dacko provided FTE Asia attendees with a rare insight into how the carrier leveraged social media and other digital channels to help communicate during, and recover from, the effects of the MH370 and MH17 tragedies.
Dacko explained how the airline went from a complete media blackout to "business as usual" in terms of commercial operations within an eight-week period after the disappearance of flight MH370, before suffering the MH17 tragedy on 17 July. He explained that a round-the-clock social media presence to help answer questions quickly, heartfelt YouTube messages from the airline's CEO, clear communications strategies for different country markets, and the support of staff and the public have all played a vital role in the airline's ongoing recovery from the incidents.
IATA, airporttrends.com and LIFT Strategic Design workshops
Day 1 of FTE Asia 2014 saw delegates participate in a selection of interactive workshops led by IATA, LIFT Strategic Design and airporttrends.com. To reflect the event's overall focus on the end-to-end passenger experience, a team of IATA passenger experience experts, led by Vinoop Goel, Regional Head – Airport, Passenger, Cargo & Security – Asia Pacific, IATA, revealed their key areas of focus both on the ground and in-flight for 2015 and beyond.
Meanwhile, Hildegaard Assies, Co-founder of airporttrends.com, shared her 10 key passenger experience trends for the airport environment in an absorbing two-hour workshop, while Daniel Baron, Owner and CEO of LIFT Strategic Design, shared strategies for delivering even better customer experiences onboard the aircraft in an interactive "unconference" session.
Gala Dinner hosted by Malaysia Airports
FTE Asia EXPO 2015 – Asia's biggest passenger experience expo to take place in Singapore from 17-19 November 2015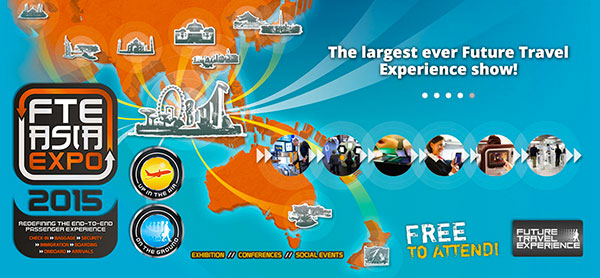 FTE's next event in Asia will be a much-needed end-to-end passenger experience expo for the Asia Pacific region, and will take place at Singapore Expo Convention & Exhibition Centre from 17-19 November 2015.
FTE Asia EXPO 2015 will be FTE's biggest ever event and we expect it to attract in excess of 1,000 visitors, the majority of whom will be senior travel industry executives from across the Asia Pacific region. We are delighted to confirm that the likes of Panasonic Avionics, Zodiac Inflight Innovations, SITA, Lumexis, Kaba, Boon Edam, Access IS and Custom have already confirmed that they will be exhibiting their latest passenger-focused products at the show.
FTE Asia EXPO 2015 will provide a platform for the industry's most innovative solution providers and travel facilitators from Asia Pacific and beyond to come together to showcase their latest products and concepts designed to improve the end-to-end customer journey. The expo will place a particular emphasis on streamlining airport processes, and providing more comfort and personalisation in-flight.
In addition to the biggest expo of its kind anywhere in Asia, FTE Asia EXPO 2015 will include two conference streams running simultaneously covering the most significant developments and future trends relating to the passenger experience 'On the Ground' and 'Up in the Air'.