FTE Europe 2015, which will take place at the Park Plaza Riverbank London from 2-4 February, will feature an extensive exhibition of the very latest solutions and services that have been developed to help airports and airlines improve the passenger experience. In the second instalment of our exhibition preview, we highlight what delegates can expect to see from BT, ICTS Europe Systems, Inurface Media, AirPortr and STG Aerospace.
» View Part 1 of the FTE Europe 2015 Exhibition Preview
BT (Stand 38)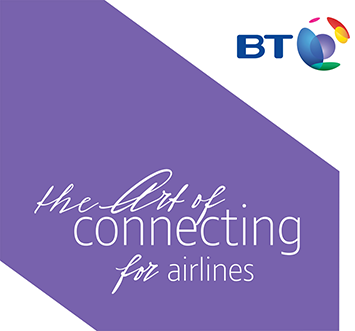 BT will be highlighting how, in today's world of smartphone-equipped passengers, it helps the airline and travel industry:
Deliver a great travel experience and foster loyalty: Providing modular contact centre solutions that offer a real time, single view of the customer at all touch points, big data analysis and visualisation tools to help airlines monitor and react to social media sentiment, personalised video to let travellers feel truly special, and call recording for training and regulatory compliance purposes;
Realise the possibilities of the cloud: Enabling the airline and travel industry to better use their resources offering a unified environment that allows for least cost routing to the rightly skilled agents in the right geographic location, leading to better control of revenue streams;
Work in harmony: Bringing together mobility solutions such as Work Force Management, RFID tracking systems for asset management and collaboration services for the wider aviation stakeholders to speed up airplane turnaround time;
Expand anywhere and run profitable operations: Offering world class connectivity and local call centre numbers around the world, so that airlines can expand faster by delivering calls to agents who speak the languages of their customers.
For more information, visit: www.btplc.com
AirPortr® (Stand 28)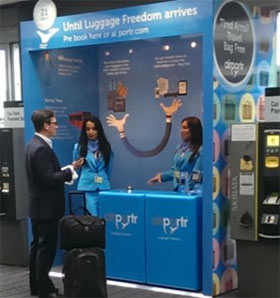 2015 sees the continued growth and development of the UK's first premium luggage concierge service, AirPortr, which is exhibiting at FTE Europe for the second year running. Passengers are now able to travel how, where and when they want as they no longer need to factor in the inconvenience of traveling to/from the airport and their London destination with their burdensome baggage in tow.
Passengers travel lighter and quicker whilst being secure in the knowledge that their luggage will be awaiting them at their destination. With no bag weight or size restriction and costing from as little as £30 for two bags into Central London it means the service is an 'affordable luxury' for everyone.
AirPortr launched last spring in London City Airport and has maintained a 100% successful delivery record having helped thousands of travellers experience a hassle and stress free journey. This 'seamless journey' has also taken another innovative step forward with the launch of 'Carousel Collection' with British Airways, where a domestic passenger's bag is picked up direct from the baggage reclaim and then delivered to its end address – with no need to wait, passengers simply land and leave when touching down at London City Airport.
To find out more, visit: www.portr.com
ICTS Europe Systems (Stand 18)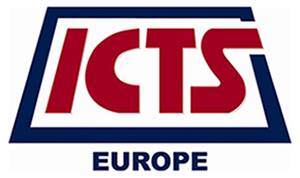 ICTS Europe Systems offers a complete range of technological solutions in the area of Aviation Security, Immigration, Training and Security Management. At FTE Europe 2015, attendees will be able to find out more about some of the company's main products, including TravelDoc, a travel document verification (Visa); Eagle, the most dominant CBT platform in Europe for the aviation security sector; and SmartQ, boarding pass verification and passenger flow management.
As part of the ICTS Europe Group, covering 82 airports in Europe and 12,000 staff, ICTS Europe Systems can demonstrate an unrivalled knowledge of the aviation market and face with confidence current and future challenges in the aviation sector by combining advanced technological resources with expert and experienced people. The company has first-hand understanding of the specialised needs of the market, enabling them to create tailor-made, security solutions that work as well in practice as on paper.
For more information, visit: www.ictseuropesystems.com
Inurface Media (Stand 22)

Inurface Media has a solid reputation in the industry for its flexible and reliable digital signage solutions, providing the hardware and software as well as giving support for the content and maintenance of the network, and FTE Europe delegates will be able to find out more on the company's exhibition stand.
Inurface media has a wide range of clients ranging from Stena Line and Heathrow through to retailers such as Ralph Lauren and Alfred Dunhill, demonstrating the ability to provide solutions and positive results for a whole range of businesses. Through the integration of hardware, software and creative content, whilst taking a client-focused approach, Inurface Media is able to provide individual digital signage solutions from video walls to outdoor displays to bespoke touch screens.
For more information, visit: www.inurfacemedia.co.uk
STG Aerospace (Stand 24)

STG Aerospace is a pioneering force in innovative lighting technologies for aircraft interiors, and visitors to the company's stand at FTE Europe will be able to see a live demonstration of its liTeMood® product. liTeMood® is a plug-and-play programmable blue/white LED Cabin Lighting system designed specifically to retrofit commercial aircraft cabins.
Based on an understanding of the challenges faced by OEMs, airlines and MROs, the company's industry-leading systems are designed to enhance passenger comfort, brand identity and reduce the cost of aircraft operation whilst still complying with the very latest safety standards and regulations in the industry.
Currently installed in over 9,000 aircraft, representing one third of the world's passenger fleet, STG Aerospace products also include: safTglo®, the pioneering and market-leading photoluminescent emergency floor path system; and safTsign™, the leading brand of photoluminescent emergency and informational signage for commercial and military fixed-wing and rotary aircraft.
For more information, visit: www.stgaerospace.com