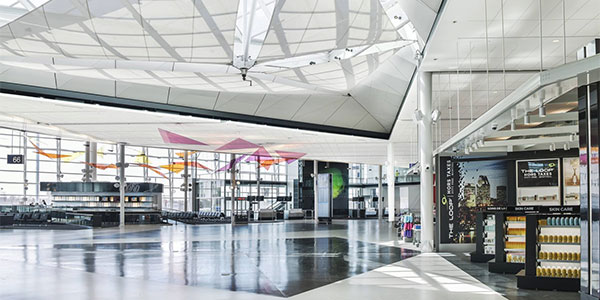 Aéroports de Montréal (ADM) has inaugurated $350 million worth of expansions and improvements at Montréal Pierre-Elliott Trudeau International Airport.
The new facilities include an extension to the international jetty, including the addition of six boarding gates for wide-body aircraft, plus the introduction of a new commercial area between existing Gates 52 and 53. The project also features expansions in the domestic sector, including a commercial area near Gate 1.
James Cherry, President and CEO of ADM, said: "The project is part of a master plan to create a facility that is both functional and vibrant, as well as emblematic of Montréal. It has been completed showing imagination and taking into account our limited financial resources."
Among the main features is the development of an interior open-plan area designed to create a unique atmosphere through the integration of artistic and cultural elements. This includes a lighted ceiling installation titled Nuée de verre (Veil of Glass) and composed of different coloured glass triangles illuminated by spotlights. Large murals created by local artists, showcases dedicated to Montréal's main museums, and a children's play space also feature.
Other positive passenger experience touches include free Wi-Fi, and 1,000 chairs equipped with charging stations and USB ports.