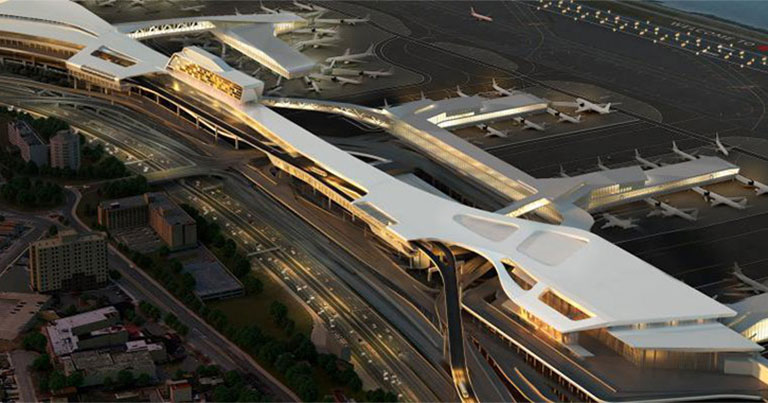 Delta has announced that it will be partnering with Port Authority of New York and New Jersey (PANYNJ) to undertake the redevelopment of Terminals C and D at LaGuardia Airport.
FTE reported last month on the $4 billion development of a central terminal, and now Delta has released its plans for Terminals C and D. It plans to combine the two terminals into one unified facility. PANYNJ will invest $600 million in the redevelopment as part of a new lease agreement up until 2050.
The new terminal will feature 37 gates over four concourses with 33 of those having access to dual taxi lanes. In addition, it will have a larger Delta Sky Club lounge, larger gate holdrooms and 30% more concession space. Passengers will also have direct access to the terminal from the parking area.
There are further improvements in the pick-up and drop-off area and a kerbside check-in bypass, leading directly to the security lanes. It is also expected to be far more energy efficient than the current terminals.
Delta's CEO, Ed Bastian, said: "Today marks another proud moment in Delta's ongoing commitment to providing an exceptional experience for New Yorkers. Our participation in this historic project builds on the more than $2 billion Delta has invested in New York over the past seven years. We are honoured to be a part of Governor [Andrew] Cuomo's and the Port Authority's comprehensive vision for a 21st-century LaGuardia Airport, and we look forward to many exciting milestones to come."
Delta Vice President – New York, Henry Kuykendall, added: "On behalf of the more than 10,000 New York-based employees who are part of the fabric of this community, we take great pride in Delta's role in rebuilding one of the world's busiest and best-known airports in the city that we all call home."
Governor Andrew Cuomo, said: "Replacing these outmoded terminals is a major step forward in our reimagining of LaGuardia into a 21st-century, world-class airport worthy of the Empire State."