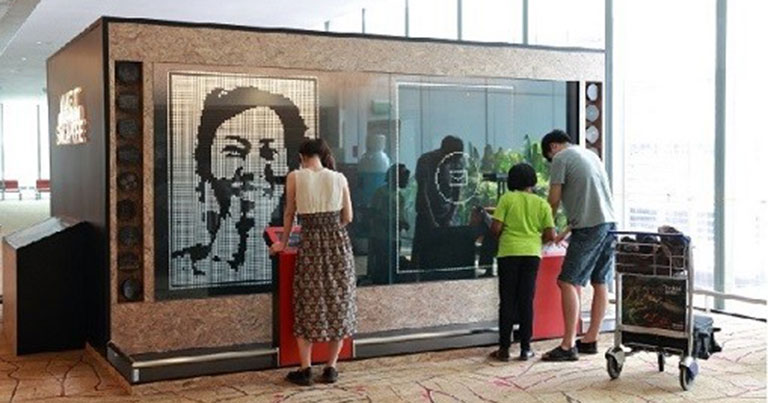 Passengers travelling through Changi Airport can now enjoy interactive installations across all three terminals. The installations have been developed jointly by Changi Airport Group (CAG) and the Singapore Tourism Board (STB), to "engage, excite and encourage visitors to explore Singapore in and beyond the airport".
Among the installations is a digital wall with motion-sensing technology. Located next to the Skytrain station in Terminal 2, the LED 'Dots Portrait Wall' can detect when someone is standing in front of it and offers passengers the option of creating a portrait. The passenger can select a backdrop – choices include the iconic Gardens by the Bay and Merlion Park ­– and their portrait is then superimposed on it. The finished image then appears on the screen in a black and white flip-dot display, which can be sent to friends and family via email.
On the other side of the interactive screen is a 'Motion Silhouette Wall', which responds to movements in real time. Using the same motion-sensing technology, backdrops and patterns change as passengers in front of the wall move and interact with the animation.
Departing passengers and airport visitors can also explore photo spots across the airport, which showcase Singapore's culture and a variety unique attractions. The photo spots come with realistic murals, complete with interactive elements such as a boat ride along the perimeter of the River Safari.
Mr Bernard Siew, CAG's Vice President of Experience Creation, said: "We are excited to introduce to our visitors these interactive experiences at Changi Airport. These new variations are designed to engage their senses and create pleasant memories of their visit to Singapore and Changi Airport. To capture greater mindshare among tourists to this region, CAG and STB continue to work together to constantly refresh and promote the Singapore experience. We look forward to offering even more unique concepts to delight our travellers."