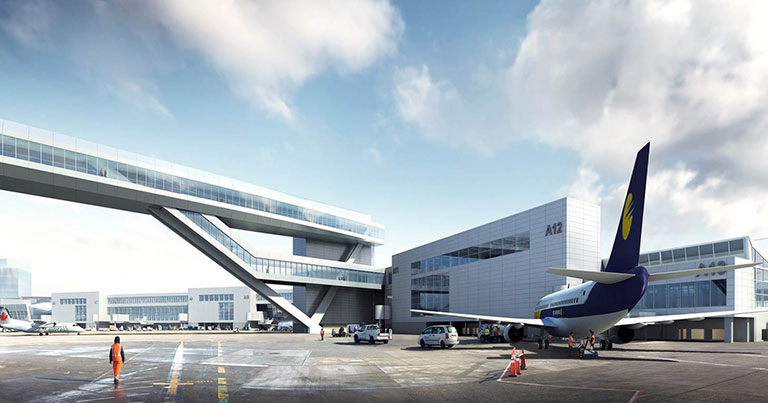 The Port of Seattle has released details about the new International Arrivals Facility (IAF) at Seattle-Tacoma International Airport, which is due to open in late 2019.
The IAF is being introduced in response to increasing passenger numbers and will be important in the port's Century Agenda to double the number of international flights and destinations over the next 25 years. Currently, $660 million is being invested in this project, which will begin in early 2017.
The new facility will be multi-level, spanning 450,000 square feet and will feature a 900-foot walkway over the existing taxi lane to connect arriving international passengers from the south satellite across the top of concourse A to the new IAF. The facility will increase the passenger capacity to 2,600 per hour, more than double the current figure (1,200). It will be located to the east of Concourse A and along with the facility, a new corridor will be built on the concourse to increase the number of international gates from 12 to 20.
IAF also brings other enhancements, such as increasing the number of passport check booths and kiosks from 30 to 80, increasing the number of baggage claim carousels from four to seven, reducing the minimum connection time from 90 minutes to 75, and creating a single bag claim process and direct access to ground transportation from IAF.
Port of Seattle Commission President John Creighton said: "Our international travel continues to grow at a double-digit pace, but what welcomes international travellers to Sea-Tac is a cramped, 1970s facility that is well beyond its planned peak capacity.
"The IAF project is a critical investment for the region's economy that will create a proper welcome mat for both business and leisure travellers. The new facility will help drive the port's Century Agenda strategy to double the number of international flights and destinations over 25 years."