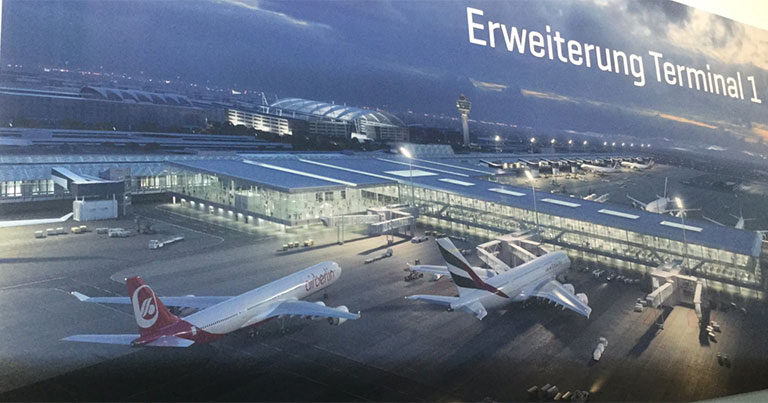 Munich Airport has announced plans to expand Terminal 1, which will increase the terminal's capacity by 6 million passengers per year. The project involves the construction of a new pier and a central building complex.
The new pier will be linked to the existing A and B modules of Terminal 1 and will extend 320 metres into Munich Airport's western apron. It will have stands to handle up to 12 aircraft, including two equipped for the Airbus A380.
The overall architectural design is based on a three-level structure consisting of a core adjoining the existing Terminal 1 and a pier. The apron level will house the baggage claim area and departure gates for non-pierside aircraft. The level will be connected to the existing terminal at Module B.
The core building will contain the central security and passport control facilities, as well as F&B and retail offerings. The departure gates, inside the pier, will also be on this level. The level above the departure area will serve to channel arriving passengers, depending on whether they are heading for security screening for connecting passengers on that level or down to the baggage claim area. This level will also have spacious lounge areas.
The expansion project, including the affected arrival areas in the existing Module B, will cover around 80,000 square metres. Construction work on the apron could begin as early as 2018, while the new pier will go into operation in 2022 at the earliest. According to initial estimates, the project will cost a total of €400 million, which Munich Airport will finance.
"The planned expansion is comparable to the construction of an entirely new airport. It will bring Terminal 1 right up to date," said Dr Markus Söder, the Bavarian Finance Minister and Chairman of Munich Airport's Supervisory Board. "The added capacity will be equivalent to the annual traffic of a mid-sized German airport such as Hanover, for example."
Munich Airport CEO Dr Michael Kerkloh added: "With the expansion of Terminal 1 we are taking an important step to secure the future of our airport. For the airlines already operating here, we are opening up long-term growth perspectives while creating space for new airlines that want to offer flights to and from Munich in the future."