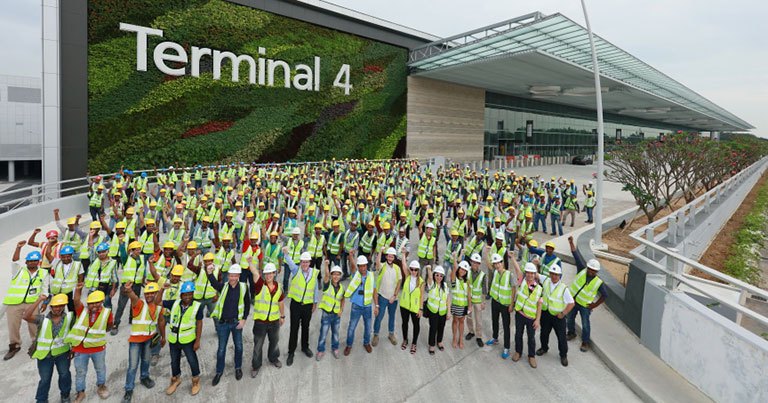 Changi Airport Group (CAG) has announced that construction of the new Terminal 4 is now complete, having received the Temporary Occupancy Permit for the new facility. The next stage of the project will be focused on T4's interior fittings, as well as testing and preparing for operations.
Construction work on the two-storey terminal commenced in early 2014 and more than 4,000 workers were involved in the project at the peak of the works. The terminal is scheduled to open in the second half of 2017.
Yam Kum Weng, CAG's Executive Vice President, Air Hub Development, said: "The past three years have been an intense and exciting journey for CAG and our project partners. We worked closely with the architects and contractors to ensure that the development works were carried out according to plan, and witnessed the transition of our vision from architectural blueprints to fruition.
"We thank all our partners and contractors for their contributions towards the successful completion of the terminal's construction, while achieving a clean safety record of 26.1 million accident-free man hours. For the next phase, we look forward to working with the airport community to prepare the terminal for opening in the second half of 2017."
Upon its opening, Terminal 4 will make use of CAG's Fast and Seamless Travel (FAST) initiatives, which leverage self-service processing to improve operational efficiency and the passenger experience. In the coming months, key airport systems, including the FAST self-service and automated check-in, bag drop, immigration clearance and boarding systems, will be installed and tested.
In addition, airport staff and partners will undergo familiarisation training to prepare them for live operations in the terminal.