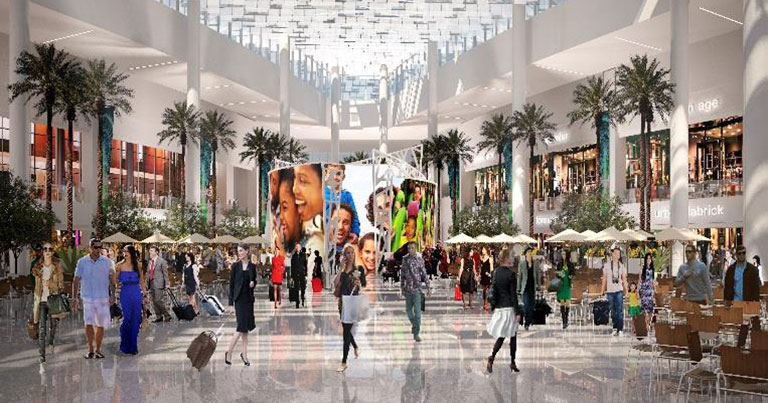 Construction work will soon begin on the $1.8 billion South Terminal Complex (STC) Phase 1 Terminal C at Orlando International Airport, as the design phase is now nearly two-thirds complete.
The design team of Fentress Architects, HNTB and Schenkel Shultz recently reached the 60% threshold, with only two design benchmarks remaining. Design elements are being refined following lead architect Curt Fentress' presentation to the Greater Orlando Aviation Authority board in November. The board's approval of his initial concepts have moved the project forward.
The STC design reinforces a campus vision by focusing on a unifying theme called "The Boulevard". The Boulevard is a corridor that runs the length of the terminal and connects the major civic areas, including the ticket hall and concessions hub.
Arrivals and bag claim will be located on the third level so passengers will experience the beauty of Central Florida immediately after deplaning. Departures, ticketing and security will be located on the second level and ground transportation on the first level. A state-of-the-art baggage handling system will make use of radio frequency identification (RFID) technology to offer 100% baggage tracking. Modularity will allow for future expansion and the life-cycle cost will be lower.
More concessions will be located beyond security, while lounge opportunities will be available, along with a "concessions in the park" area. In addition, passengers will be presented with an "imaginative multi-media experience", with interactive video displays featured in the ticket hall and concessions hub.
"We're looking to create a new gateway for Orlando, one that captures the essence of Central Florida and enhances The Orlando Experience," said Phil Brown, Executive Director of the Greater Orlando Aviation Authority. "The South Terminal is designed to be intuitive so the passenger is drawn from one element to the next, creating an exciting and memorable arrival into the city of Orlando."
The first phase of the South Terminal Complex will feature 16 gates with a flexible configuration that will be able to accommodate narrow body, jumbo and super jumbo aircraft. Construction is set to begin in Q1 2017 with projected completion in 2020.