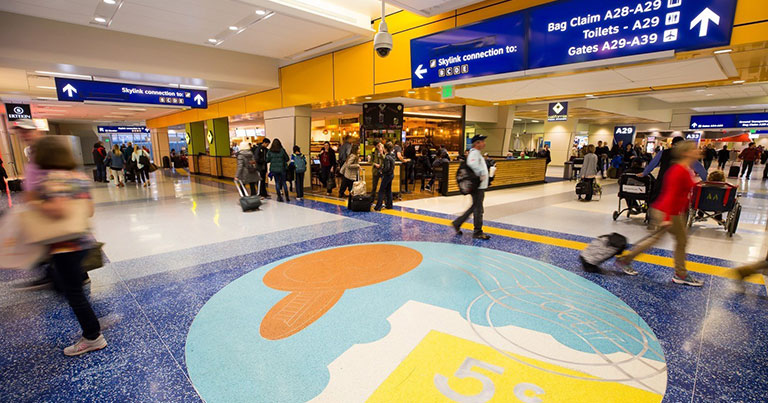 The customer-facing renovation work in Dallas Fort Worth (DFW) International Airport's Terminal A is now complete, marking a milestone in the ongoing $2.7 billion Terminal Renewal and Improvement Program (TRIP).
Improved facilities include parking, ticketing, security and concessions, which the airport says are all "designed to serve 21st century air travellers". The renovation work has created more space for security, dining and retail, and also includes technology enhancements.
Passenger flow and signage have been improved, the check-in area has been redesigned and outfitted with more self-service kiosks, and concessions outlets have been upgraded.
Also, the baggage reclaim area has been expanded and is now complemented by digital signage. TSA checkpoints have been enlarged, and more power outlets and seating have been installed at departure gates. Courtesy of AT&T, passengers now have access to free Wi-Fi.
The long list of enhancements also includes new energy efficient heating, ventilation and air conditioning systems, energy-efficient glass windows, new Terrazzo flooring, higher ceilings, four new high-capacity elevators for transit between concourse levels, and new state-of-the-art fibre optics backbone and communications rooms.
The innovation even extends to the car park, where customers can now easily find the nearest available parking space, thanks to the installation of an electronic parking guidance system.
Sean Donohue, DFW Airport's CEO, said: "At DFW, we're committed to putting our customers first with a personal travel experience, tailoring the ambience and technology to meet their evolving needs.
"Our team has accomplished what amounts to a remarkable makeover for Terminal A, turning a 43-year-old terminal building into a welcoming, memorable space for customers that's more innovative and energy efficient."
Capital improvements will continue in Terminal A beyond the original scope of the TRIP programme. For instance, new restrooms, a new receiving dock and a concessions storage space will be added. Meanwhile, work is ongoing in Terminals B and E to bring them into line with the new-look Terminal A.