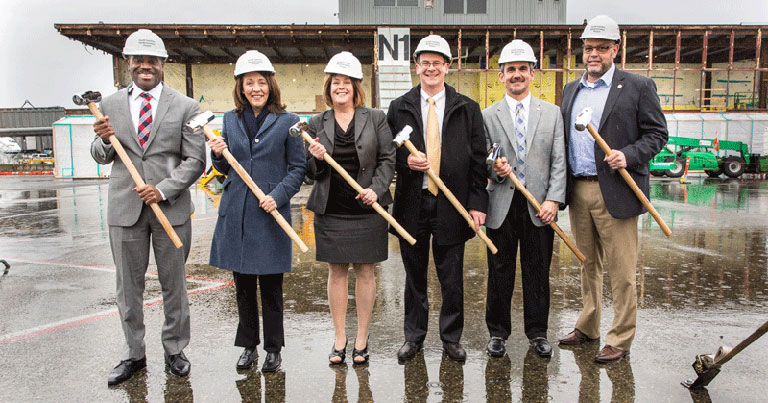 The Port of Seattle has broken ground on the North Satellite Modernization Project, which will expand and renovate the 44-year-old facility to better serve passengers and respond to continuing growth at Seattle-Tacoma International Airport.
The $550 million expansion and renovation of the North Satellite will include adding eight new gates with a 240-foot extension of the building to the west, adding an upper level mezzanine, more than doubling the existing dining and retail square footage, and introducing a rooftop Alaska Airlines lounge with views of the Olympic Mountains. Phase one is scheduled to be open in 2019, followed by the renovation of the current facility, which will open in 2021.
"Passenger needs are changing – back in 1973, when this building was built, no one needed speedy Wi-Fi or power outlets to charge their mobile devices," said Port of Seattle Commissioner Bowman. "This project represents benefits not just for travellers, but also for the broader community, including more jobs in construction and airport industries, future opportunities for entrepreneurs in dining and retail businesses, sophisticated building plans to lessen our environmental impact and an artistic vision that our community can be proud of."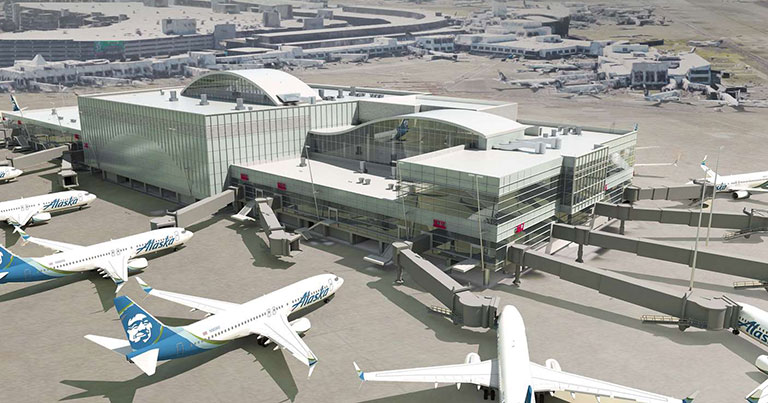 The North Satellite modernisation constitutes an unprecedented working arrangement between the Port and Alaska Airlines, Sea-Tac's largest airline and the sole tenant of the North Satellite. Already-completed projects in the modernisation programme include refurbished satellite baggage systems servicing the North Satellite, and new Concourse C exterior walkways.
Alaska is set to spend $41 million on the interior of the lounge, additional work space and other improvements, including the rollout of the new look and branding in the ticketing and gate areas.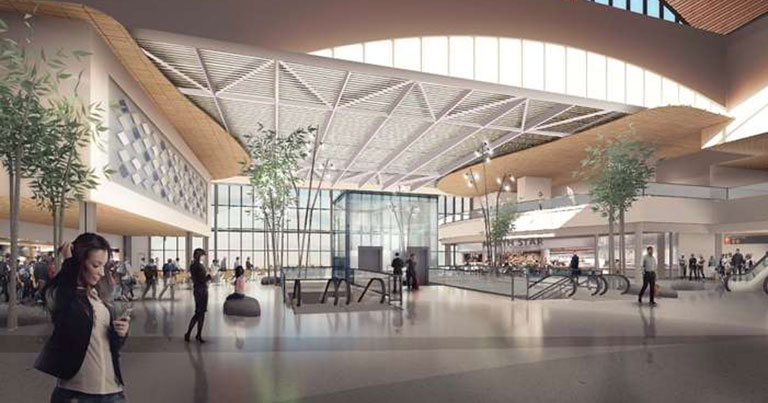 "As Seattle's hometown airline, Alaska is committed to continue to grow and invest at Sea-Tac. Our investment in the North Satellite is one of the largest we have made in decades and sets the stage for more to come," said Andrew Harrison, Executive Vice President and Chief Commercial Officer at Alaska Airlines.
"The North Satellite will embody our Northwest roots while providing modern amenities to make the travel experience exceptional for our guests. In addition to the 15,000 square foot rooftop lounge on the North Satellite, we will also be opening a third lounge on Concourse C in May."
Last year, following an interview with Lance Lyttle, Managing Director of Sea-Tac Airport, FTE reported on how the passenger experience will be reimagined across the airport.