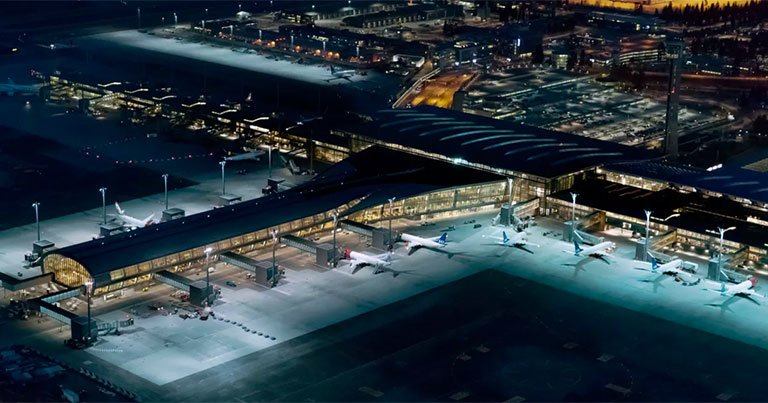 Five years after construction work began, the expansion of Oslo Airport is complete. The major project has almost doubled the terminal's footprint and increased annual passenger capacity to 32 million.
The new facilities cover 117,000 sqm, taking the total terminal size to 265,00 sqm. Eleven new jet bridge gates and 10 new remote aircraft parking spaces have been added, while the retail area has been significantly expanded.
Oslo Airport handled more than 25 million passengers in 2016, and the expansion will support further growth in the years ahead. Speaking on the day of the official opening of the expanded airport, Avinor Chairman Ola Mørkved Rinna said: "This is an important day for Norwegian aviation, and we are very proud of the new Oslo Airport. We are happy that it was delivered on time and within budget, while maintaining a high quality. The thousands of people that have worked day and night since the resolution to expand was made in the spring of 2011 deserve a big round of applause."
Avinor CEO Dag Falk-Petersen added: "We have invested NOK 14 billion in this expansion, and it will make Norway more competitive on an international level. It is important for Norway to have a well-functioning hub, which Oslo Airport is to us, and the profit from this is used to finance the rest of the Norwegian aviation network.
"We are very proud of the fact that the expansion has been completed without really affecting the passengers, and that Oslo Airport has been named the most punctual airport in Europe three times during this period."
Describing what travellers can expect to find in the expanded Oslo Airport, Gudmund Stokke, Architect MNAL, Principal Partner and Chairman of Nordic – Office of Architecture, said: "The simplicity, the short walking distances, the light and airy room progressions and the Nordic materials all make Oslo Airport measure up to the leading airports in the world. The new pier is, like the main building, held up by laminated wood constructions and concrete columns. The interior is recognisable and modernised, with a large presence of natural materials and solid, flexible solutions."
A number of innovative solutions have also been applied to reduce the airport's environmental impact, and the new buildings have received international BREEAM Excellent environmental certification.