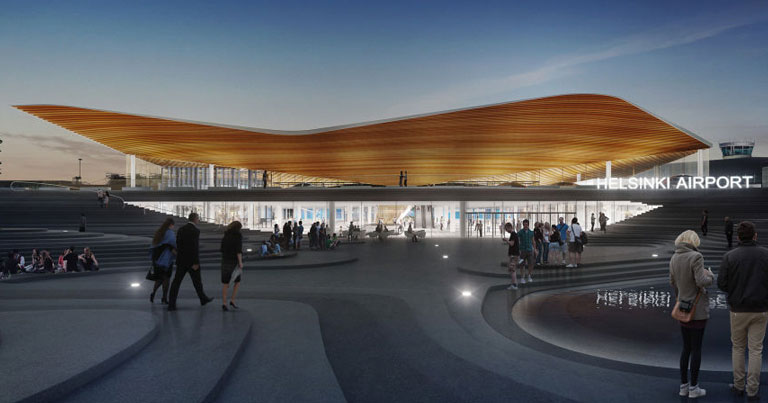 Following the release on 5 June of the results of the architectural competition for the expansion of Terminal 2 at Helsinki Airport, Finavia has now revealed images showing what the new entrance will look like.
ALA Architects' proposal, called City Hall, was chosen as the winner. The working group also included Arkkitehtitoimisto HKP and Ramboll Finland. The new wooden roof and the central square in front of the new terminal will become landmarks of the airport.
Finavia's Airport Director Ville Haapasaari and chairperson of the competition's board describes the winning design, City Hall, as an entity with memorable and open architecture.
"Over the years, Helsinki Airport has been built piece by piece, and the different sections of the terminal represent design and architecture from different decades. City Hall combined all of those into one impressive entity that creates a smooth passenger path from the terminal doors all the way to the airplane seat," said Haapasaari.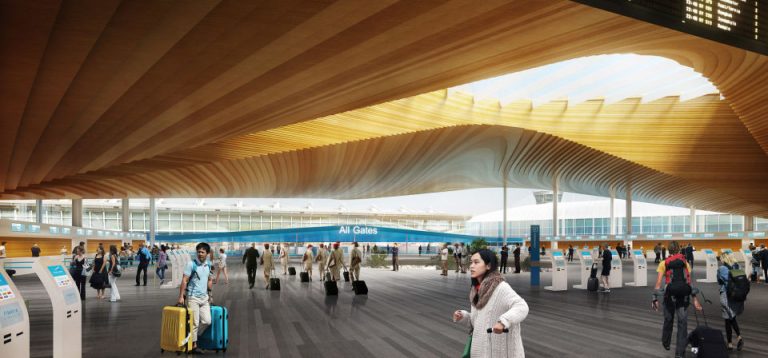 The terminal expansion will in the future house the check-in, security control, baggage drop and an area for greeting passengers.
The current departure and arrivals halls of Terminal 2 will undergo a complete transformation and become part of the gate area. This means the airport will have plenty more space for passengers and more opportunities to diversify its service offering.
"Renewing Helsinki Airport also provides an excellent service experience for passengers arriving in Finland and a positive first impression of our country," Haapasaari added.
The expansion will be built where the current parking hall P1/P2 stands. The entrance of the expansion will be completed with a central square in front of the terminal.