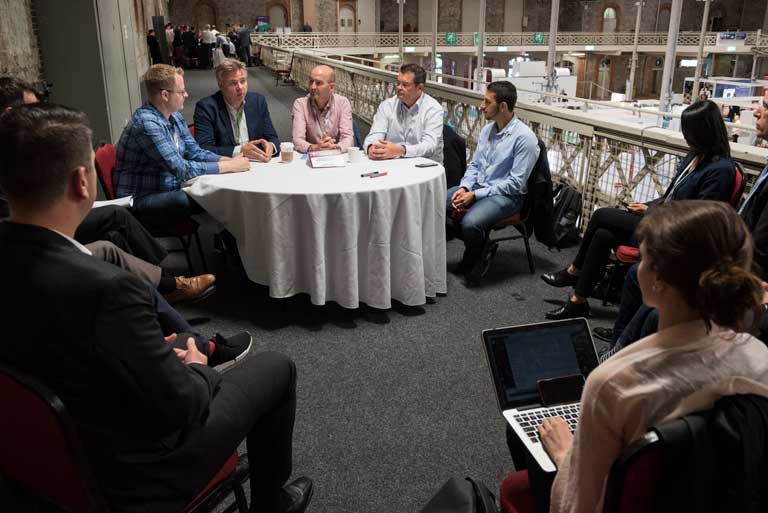 During the FTE Europe Innovation Labs & Digital Transformation Round Table, which took place two weeks ago, FTE, together with co-founders of HackHorizon Kristy Hart and Kostadin Kolev, brought together some of the biggest players in the airline and airport space to share their experiences and views on how to build innovation initiatives for the future. Participating in the Round Table were: Sveinn Akerlie, CIO, Head of WOW Labs, WOW Air; Chris Annetts, Retail and Service Proposition Director, Heathrow Airport; Jack Loop, Director, LocusLabs; and Renaud Irminger, Director, SITA Lab, SITA. Here, we provide some of the key discussion points that came out during the session.
Sveinn Akerlie, CIO, Head of WOW Labs, WOW Air, opened the discussion by depicting the current state of the industry. He said: "We recently made additions to our fleet with the new A320s. These are cutting-edge aircraft, but they still use floppy disks."
So, here comes the question, how big travel organisations can innovate and be less hindered by legacy technology?
Most travel players are encumbered by legacy systems  
To try and tackle the challenge of legacy in travel, companies need to use APIs as a force multiplier to accelerate the pace of transforming the way things are done. This has a huge potential upside as airlines and airports obtain much more data and knowledge about their customers than other industries.
In the case of SITA Labs, which was established by SITA board members in 2008, the aim has been to break the mould. In the last nine years, SITA has built 80 projects, 12 of which have now been taken up and fully integrated into the business.
Renaud Irminger, Director, SITA Lab, SITA, commented on the importance of iterating fast and testing new ideas to solve the big challenge in the industry. "You need to digitise because otherwise you can't make changes in real time." Industry players need to move past legacy tech and have a basic digital infrastructure they can iterate and build even faster. This is what is currently happening with the rapid digitisation of boarding passes – paper becomes the enemy.
As a new airline, WOW Air has found it easy to set up structures that are better geared towards being innovative. Most airlines tend to get "stuck in the spiderweb of legacy", as Akerlie explains, "and therefore, we need to keep nimble to avoid the danger of falling into the same trap."
WOW Air is working in two-week sprints and adopting a lean methodology to build and test new concepts and projects that it believes will add value to the airline. However, this is not a small feat, even for a new airline, as it has had to completely rebuild its PSS twice in the last five years so it can maintain its ambitious development cycles.
One thing that being a new player has allowed WOW Air to do is to bring new people in who are not weighed down by the perceived limitations of the industry. The brute force of the start-up or outsider mentality to do something just because it's the right thing to do is what often gets the job done.
The importance of customer-centricity in helping to drive change in the organisation
As a player in travel, you talk holistically about customer experience of which digital is one thread. People will not always understand the workings and purpose of individual technologies; it is easier to relate to customer experience, not the technology which enables the solution. You can't sell APIs.
The danger of pure innovation is that it will create "wiz things" that are not useful for the business or its customers, explained Chris Annetts, Retail and Service Proposition Director, Heathrow Airport. Companies need to be self-aware and focus on solving existing problems (either operationally or ultimately to serve the passenger).
The irony here is that you cannot hack the customer-facing front-end without investing resources in building out the back-end. The challenge is that there will always be a lot of reluctance to change the back-end because it is a huge investment for the company, and therefore right now we still see very front-end heavy innovation.
There are a lot of people in the business for whom it is not the core of what they are doing, but everyone does or at least should care about their customers, so that is an easy way to get the discussion going.
Partnerships – a key to unlock potential
Annetts revealed that for Heathrow Airport this problem is very difficult, as it not only has its own legacy technology, but also there are 90+ airlines to integrate with, which fly to and from the airport every day.
There is the risk that even when trying to talk to the executives about your digital strategy, they might not understand because it might not be at the centre of what they do in their day-to-day duties.
So Heathrow Airport, for instance, has sought alignment outside the company with other players in the industry. In airports, every airport does pretty much the same thing – the distinction comes in the way you choose to tackle the process that a passenger goes through and external partnerships can help you do this with potentially less resistance.
And finally, as Jack Loop, Director, LocusLabs pointed out, travel is a service industry; when one falls within a vertical, it impacts the whole industry as we have seen time and time again in the news.
You need to be aware that not everyone is going to have a clear digital strategy, but you can still work with those who understand its importance.
Conclusion
A lot of Innovation Labs and Digital Transformation teams at the moment are much like satellites (working way outside the organisation). Instead, we need to make them the core of the decision-making of the company.
The idea of a Lab should not be to act as an external test bed for its ideas that you might then integrate into your core business, but to build them as a core part of the organisation itself.