The Metropolitan Nashville Airport Authority (MNAA) and Mayor Megan Barry have unveiled the new BNA Vision, the growth and expansion plan for Nashville International Airport (BNA).
Over the past year, architecture and design firm Corgan has led the intense planning and design process. The original conceptual images have now been developed into final architectural renderings, revealing the actual look, feel and features of the proposed renovation.
Nashville Mayor Megan Barry said: "A world-class city and a world-class airport go hand-in-hand. Nashville International Airport is a critical component of our region's continued economic development and our front door for travellers from across the globe. With the inspiration found in BNA Vision, we intend to put the very best of Music City centre stage from arrival to departure. I commend the airport's Board of Commissioners and staff, and all who worked to put together this creative and forward-looking plan."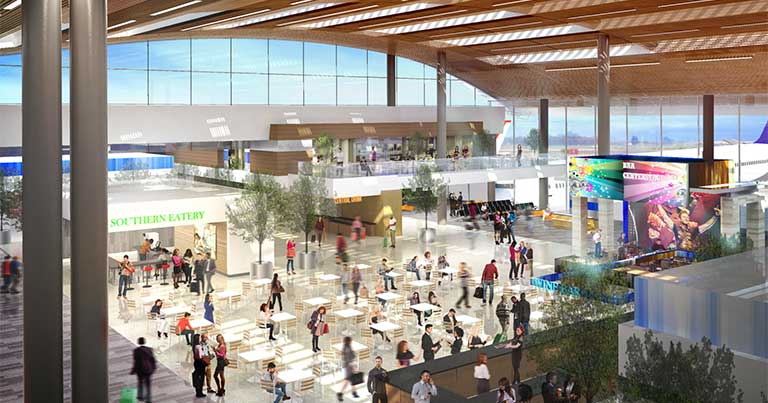 The vision includes additional airport parking, more aircraft gates, the doubling of security lanes, and an expanded international processing facility. It also include BNA's first ever onsite hotel, and includes provisions for a future light rail link.
The design itself features aesthetic elements celebrating the spirit of Nashville, including the authentic craftsmanship of instruments, especially the acoustic guitar, and reflecting the natural beauty of the city's parks and green spaces.
The food, music and culture found at Nashville International Airport is designed to be a seamless extension of the sights, sounds and flavours of the famous Music City.
In fiscal year 2017 ending June 30, more than 13.5 million passengers travelled into and out of Nashville International Airport – a record for the fourth consecutive fiscal year. Current projections estimate that passenger traffic will exceed 23 million by 2041.
"The airport's Board of Commissioners is focused on the long-term needs of our airport and the community it serves," said Bobby Joslin, Chair of the MNAA Board of Commissioners.
"BNA's pace of growth demanded proactive planning, and this capital expansion project is designed to meet the needs of the region's passengers, both business and leisure travellers, for decades to come. We couldn't be more pleased with the scope, style and feel of the proposed BNA Vision that emerged from this process."