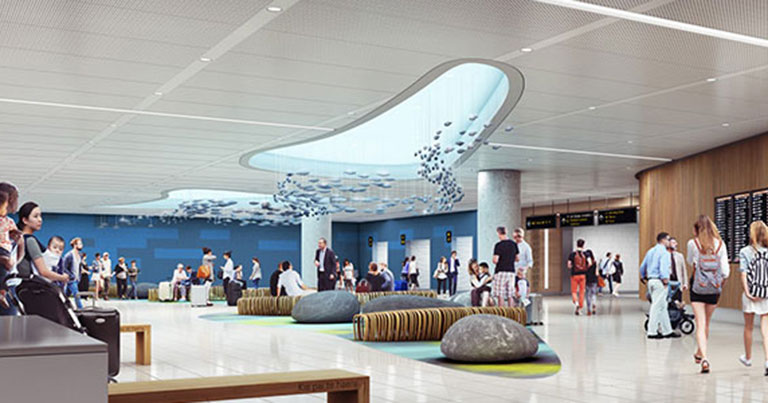 Auckland Airport has announced further details of the upgrade of its international departure area, including some of the new brands that will feature in its international retail hub.
"The upgrade of our international departure area is progressing well, with 77% of construction now complete," says Adrian Littlewood, Chief Executive, Auckland Airport. "The extension of the international terminal's Pier B is also progressing well, with 82% of construction complete."
In recent months, Auckland Airport opened a new customs and security screening process area, as well as a new space for people to relax after security screening, use the new toilet facilities or check their flight information, before heading towards the new retail hub and international passenger lounge.
In September, the airport also opened a new Strata Lounge, a comfortable and relaxed space for travellers who do not belong to an airline lounge programme, and 14 airlines that choose to use the lounge to accommodate their premium passengers prior to boarding. Moreover, the airport has opened the first stage of the new stores for its two duty free operators, Aelia and The Loop.
Later in November, Auckland Airport is also expected to open Gate 17 – the first of two new gate lounges and its airbridges on Pier B of the international terminal. Moreover, the first half of the new international passenger lounge and its retail hub is expected to open in time for the holiday season.
"Opening in stages from December 2017, the new international passenger lounge and retail hub will feature a number of new and exciting New Zealand destination stores, showcasing our country and its unique products and brands, including Icebreaker; Koha, a store showcasing New Zealand art and gifts; Mountain Jade, selling quality handcrafted greenstone; Merino Collection featuring natural fibres; Beecology, a dedicated premium honey store; and a Whittaker's chocolate concept store."
Littlewood adds: "We are also excited to announce that 20 new food and beverage outlets will be opening across our international terminal to provide travellers, customers and staff with quality New Zealand and international cuisine. Fifteen of these outlets are brand new concepts to Auckland Airport and will be a mix of in-terminal restaurants, casual dining, grab and go, and fast food retailers. We will announce the names of these new food and beverage outlets closer to their openings, scheduled from March 2018."
"Auckland Airport is committed to showcasing the best of New Zealand and the world as part of its new international departure experience. We thank passengers for their ongoing patience as we build the airport of the future," he concludes.