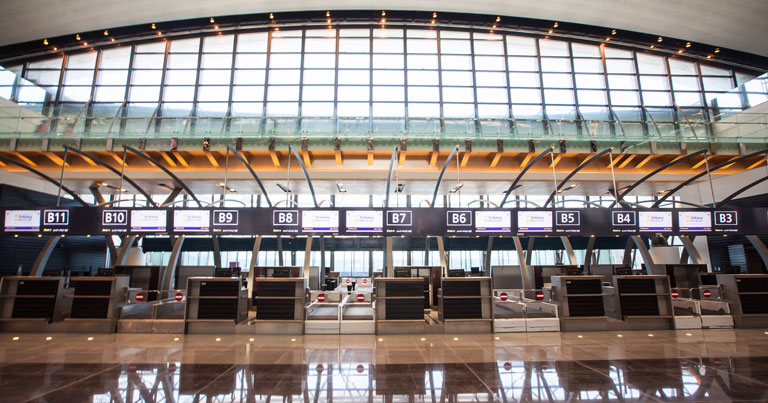 Oman Air, the national airline for the Sultanate of Oman, started its operations from the New Muscat International Airport on 20 March, when all incoming and outgoing flights were transferred from the previous terminal to the new airport. As a key stakeholder, Oman Air is operating up to 200 flights per day from the new terminal.
The New Muscat International Airport has been designed to be a "shining example of the modern state of Oman". The airport will be a significant boost to Oman's growing travel sector as it will have the capacity to handle 12 million passengers per year and its runway will be able to accommodate the world's largest aircraft, the Airbus A380, and independent parallel operations. The airport also boasts 6,000sqm of duty free shopping, 96 check-in counters, 8,000 parking spaces and a 90-room airside hotel.
The new terminal allows Oman Air to offer a thoroughly enhanced service; the check-in process is more seamless for all customers and Premium Class customers can use designated check-in areas and entrances. Entrance A is for all Business Class passengers and offers Oman Air customers access to the airline's First and Business Class check-in lounge. Entrance B is for Oman Air Economy Class passengers, and Entrance C is for all other airlines' Economy Class passengers and offers access to the Economy Class check-in area.
Once in the airport, there are designated check-in areas for Premium Class Oman Air guests. First and Business Class are served separately through 12 check-in counters and three supervisor counters. Oman Air also offers premium concierge services at check-in with seating and soft drinks provided, as guests complete the check-in process. There are further 24 counters exclusively for Oman Air Economy Class guests.
Moreover, Oman Air First and Business Class passengers can enjoy the unique Omani hospitality at the Premium Lounges, located above Muscat Duty Free and next to the airside hotel. The interiors created in the lounges have been influenced by the unique terrain found in Oman.
The First Class lounge offers services including a personal chef, limousine service from the lounge to the aircraft and relaxation rooms. The Business Class lounge offers an extensive array of snacks and full dining options, a quiet lounge area, shower rooms, a children's play area, wireless internet access and a business centre. Gold members of Oman Air's Sindbad frequent flyer programme will also be welcome to use the Business Class lounge.
Acting CEO Abdulaziz Al-Raisi said: "The opening of the New Muscat International Airport has long been anticipated and is a momentous occasion in the Sultanate's history. Here at Oman Air we are confident this new development will allow us to offer our valued guests a new level of service that is sure to exceed their high expectations. As a major stakeholder, our strategy is to support the anticipated growth in tourism and logistics and we are stepping up investment. In 2018, we have already announced the arrival of new aircraft, routes to North Africa, Russia and Europe, and an expansion of existing services."
The opening of the new terminal will support the airline's fleet and network expansion programme, which will see Oman Air operate up to 62 aircraft to around 60 destinations by 2022.