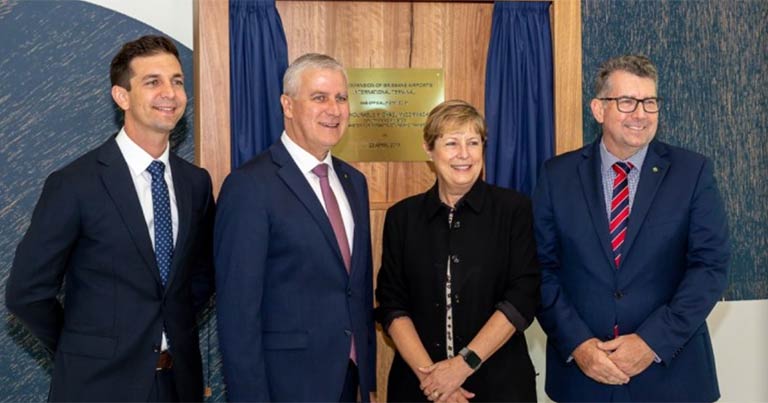 Brisbane Airport's new $135 million expansion of the northern International Terminal and apron was officially opened on 23 April 2018 by The Hon. Michael McCormack MP, Acting Prime Minister, Leader of the Nationals and Minister for Infrastructure and Transport.
The new facilities provide an array of benefits with the integration of the latest technology, increased aircraft docking and parking space, as well as improved passenger experience and processing efficiency to cater for future growth.
Following two years of construction across two levels, the expansion provides an additional 11,000 square metres of space at the International Terminal, including new arriving and departing passenger zones, two new walk-out gates and four new aerobridges.
A significant feature of the terminal expansion is an epic 90 metre floor to ceiling art work by Queensland College of Art (QCA) Master of Visual Art student Michael Phillips, commissioned by Brisbane Airport Corporation (BAC) as part of a competition. The project also delivered 55,000 square metres of new pavement, new aircraft taxiways and three new aircraft parking bays capable of accommodating A380, B747, A330, A340 and A787 aircraft.
Julieanne Alroe, BAC CEO and Managing Director, said the terminal and apron expansion was just one part of the airport's $3.8 billion infrastructure program designed to meet future growth, and position Brisbane Airport as the nation's preferred gateway airport.
"Last year we had a record 7% increase in international passengers and, with numbers expected to rise, our focus is on how Brisbane Airport can continue to play a significant role in meeting forecast demand and stimulating even more. When our new runway opens in 2020, Brisbane Airport will be in the unique position of having more capacity than any other capital city airport in Australia and the most efficient runway system in the country, as well as being the most domestically connected airport for travellers.
"This makes Brisbane an incredibly attractive option for new international carriers looking to commence services to Australia, for departing passengers wanting direct access to the world, arriving international visitors, and for existing airlines carriers wanting to increase the frequency of services to accommodate demand," Alroe said.
The new Inter-terminal Transfer facility recently completed at Brisbane International has also made transferring between the terminals more efficient with increased processing capabilities, regular door to door bus transfers and helpful signage throughout the journey.
"It's about connecting all the pieces to make travelling through Brisbane Airport a consistently world class experience for all," Alroe added.