Four airlines, one airport and a startup were rewarded for their customer experience and ancillary revenue excellence at the 2nd Future Travel Experience Europe Innovation Awards and Future Travel Experience Ancillary Awards in Dublin. The winners were announced during a presentation ceremony at the co-located FTE Europe and FTE Ancillary events, which took place at the RDS in Dublin from 6-8 June 2018.
More than 500 of the travel and air transport industry's most forward-thinking executives – representing a global spread of airlines, airports, technology companies, industry vendors, startups, travel retail concessionaires, academia and associations – gathered in Dublin for the co-located shows.
Future Travel Experience Europe Innovation Awards 2018
Most Innovative Airline: Lufthansa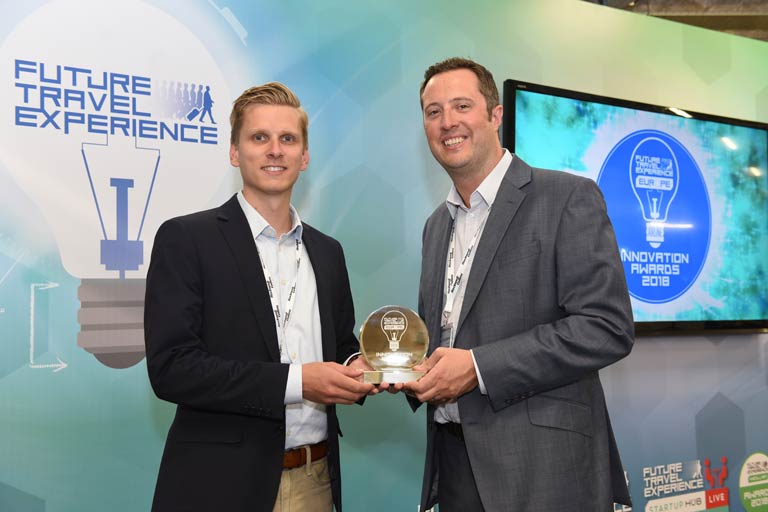 Lufthansa was presented with the "Most Innovative Airline" award after seeing off strong competition to secure the title for the second successive year. Over the past 12 months the carrier has continued to embrace innovation, with a strong focus on using technology to simplify and improve the end-to-end travel process. From trials of biometric boarding in Los Angeles and a humanoid robot in Munich, to the introduction of auto check-in for Schengen flights and the use of the pioneering Lufthansa FlyingLab to explore the potential of new products and services at 35,000 feet, Lufthansa is making every effort to push the boundaries of innovation. Ongoing engagement with the startup scene and achievement of IATA Fast Travel Platinum status for its digital and self-service efforts further highlight the work being undertaken to deliver operational and customer-focused improvements.
Most Innovative Airport: Gatwick Airport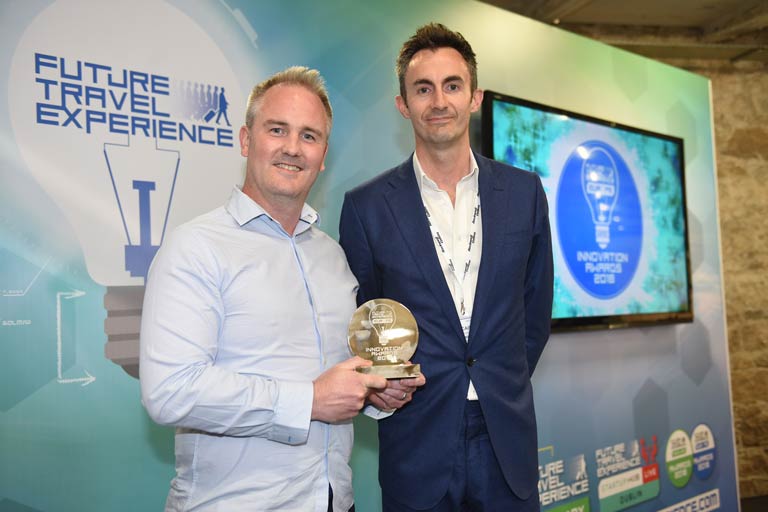 Gatwick Airport was announced as the winner of the "Most Innovative Airport" award. The single-runway airport, which handled more than 45 million passengers in 2017, continually embraces new and emerging technologies to optimise efficiency and improve the passenger experience. Examples of innovation are plentiful: the Airport Community App has been upgraded over the past year to deliver benefits to all stakeholders on the airport campus; next generation FIDS have been installed; a new passenger app has been launched, which taps into 2,000 beacons across the airport to deliver personalised and contextual information to passengers; and machine learning and big data are being used to improve on-time departure. Furthermore, Gatwick has hosted an autonomous vehicle trial, introduced a peer-to-peer car rental scheme, and participated in a pioneering trusted traveller transfer trial for passengers departing from Gatwick and transferring through Dubai International.
Future Travel Experience Ancillary Awards 2018
Gold Award: Finnair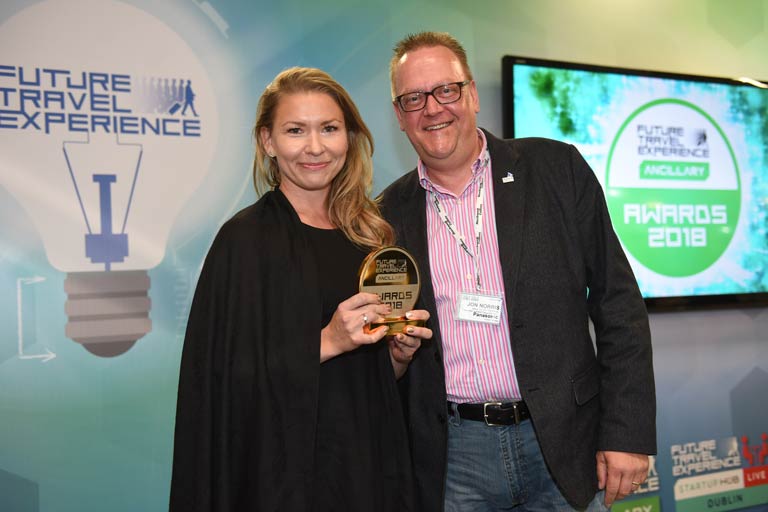 Finnair was presented with the Future Travel Experience Ancillary Gold Award for the second year in a row, in recognition of its industry-leading efforts to create new digital ancillary revenue streams throughout the passenger journey. For instance, the airline has developed an AI chatbot to help sell bags and seats via social media, new ground transportation partnerships have been forged, a "Seat and Meal" package has been introduced on some European routes, and new ancillary guest services such as Transfer Guidance have been piloted. Thanks to Finnair's inflight connectivity, the Nordic Sky Portal enables passengers to browse and purchase a wide variety of products, and arrange for them to be delivered to their home address while flying. To help further boost ancillary revenues, baggage delivery services are being explored, a new upgrade concept is being developed, and a new insurance concept is now being rolled out. By 2020, Finnair aims to double its ancillary revenue from 2016 levels. In the process of doing so, the airline has emerged as the most forward-thinking when it comes to ancillary revenues.
Silver Award: Ryanair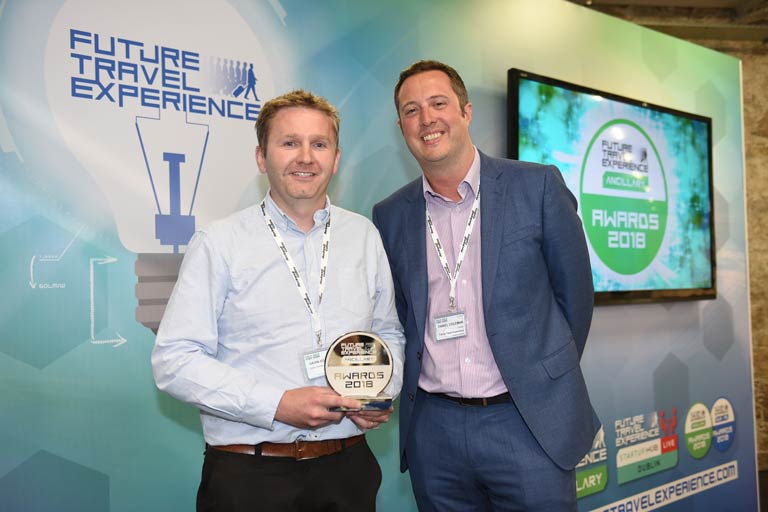 Ryanair was awarded the Future Travel Experience Ancillary Silver Award for its ongoing efforts to create innovative ancillary revenue streams. The likes of Ryanair Rooms, Ryanair Holidays and Ryanair Car Hire highlight the low-cost carrier's ambition to become the "Amazon of travel", but its ancillary-focused efforts extend far further. Its investment in its digital channels has enabled the airline to capture more valuable passenger information via MyRyanair, while the launch of the Connecting Flights product is enabling Ryanair to expand beyond its traditional no-frills, point-to-point model. Ryanair Labs continues to ensure that the airline is well positioned to tap into the latest technologies and digital advancements, and it appears to be paying off with a +13% increase in ancillary revenues reported for the year ending 31 March 2018.
Bronze Award: AirAsia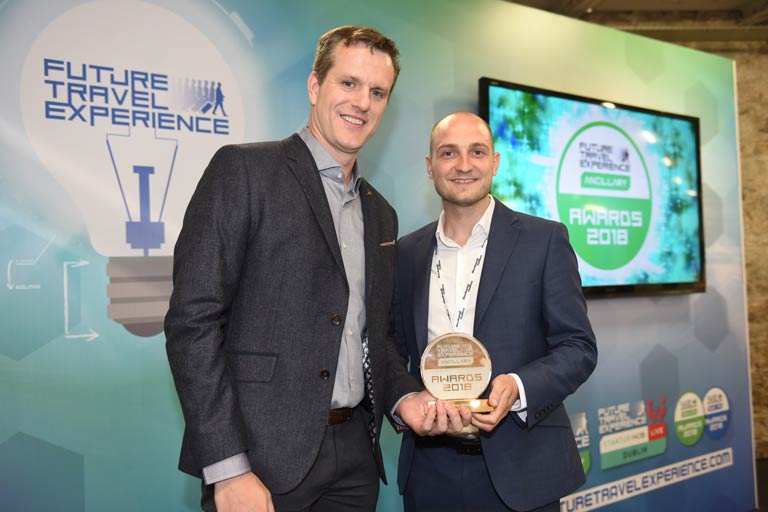 AirAsia was presented with the Future Travel Experience Ancillary Bronze Award. The low-cost carrier, which has stated a desire to become a fully-fledged "digital airline", offers a range of digital services and products under the "BIG" brand, and passengers can shop while flying thanks to the ROKKI inflight portal. It was announced earlier this year that AirAsia's digital businesses will be consolidated under RedBeat Ventures, covering everything from a travel planning portal and online ticketing, to loyalty cards and a courier delivery service, all of which provide ancillary revenue opportunities. AirAsia Berhad reported a +16% increase in ancillary revenues for full-year 2017, highlighting that its ancillary revenue strategy is delivering the desired results.
Future Travel Experience & JetBlue Technology Ventures Startup Competition 2018
Best New Startup: RebelRoam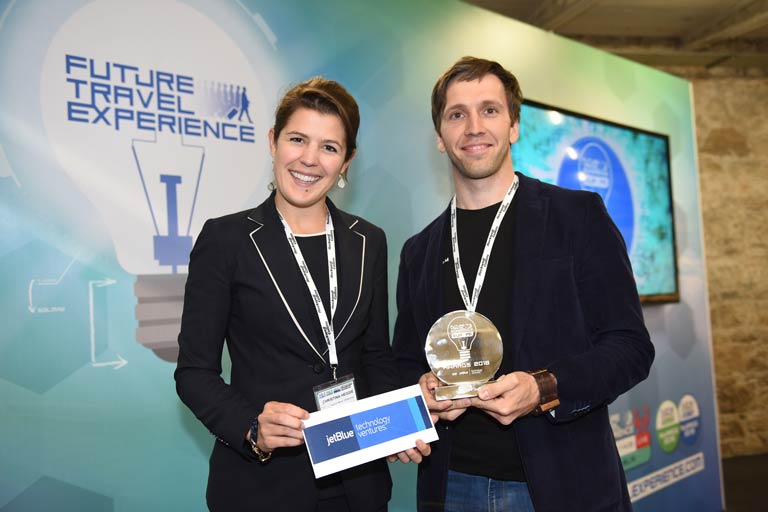 RebelRoam was voted the winner of the FTE and JetBlue Technology Ventures Startup Competition, which attracted almost 50 global entries. The four finalists exhibited and each delivered a pitch during the co-located FTE Europe & FTE Ancillary shows, with RebelRoam emerging as the winner after a vote by attendees. RebelRoam promises to revolutionise the onboard Wi-Fi experience by drastically improving Wi-Fi quality without requiring airlines to add to or change their existing network infrastructure.