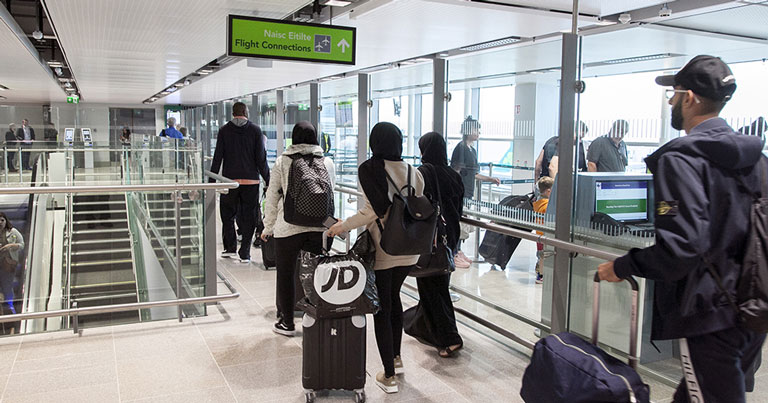 Dublin Airport has opened a new €16 million facility designed for transfer passengers. Built adjacent to Pier 4 close to Terminal 2, the new transfer area will greatly enhance Dublin Airport's ability to compete for transfer traffic between Europe and North America and improve the quality of the product available for transferring passengers.
The new building has the capacity to welcome four times more connecting passengers than currently being handled, according to Dublin Airport's Managing Director Vincent Harrison.
"We have been growing Dublin Airport as a connecting gateway between Europe and North America steadily over the past five years and this new transfer facility will help us to further expand that business," he said.
The number of passengers transferring at Dublin Airport has increased from 550,000 in 2013 to almost 1.6 million passengers last year, and connecting passenger numbers are up a further 17% this year.
"Growing this part of our business is hugely important in helping us to expand our route network at Dublin Airport, as these additional transfer passengers underpin the viability of a route and also encouraging airlines to launch new services and add capacity on existing routes," Harrison added.
The new three-story facility comprises airline information desks, boarding card checkpoints, immigration and customs facilities for transfer passengers to complete a one-stop flight connection process within Pier 4. It also accommodates an additional access route for passengers bussed from other areas of the airport.
Completed in 14 months, the project was delivered by Flynn Management & Contractors based in Glasnevin, and is part of Dublin Airport's €100 million investment programme.
The increase in transfer capacity allows Dublin Airport to expand its transfer offering further and it significantly enhances the overall passenger experience for customers who chose to connect at Dublin with a more efficient passenger journey and quicker connection times.
"Dublin Airport has many advantages as a gateway between Europe and North America for transferring passengers," Harrison said. "Our location is perfect, we have strong transatlantic, short-haul and Middle Eastern connectivity and US pre-clearance provides passengers travelling to the United States with a wonderful product that allows them to arrive as domestic passengers in the States."
Designed to allow natural light flow through the building, the new transfer facility will soon feature an art installation inspired by the song 40 Shades of Green, which was written by Johnny Cash while on a trip to Ireland. This installation will form part of the airport's ongoing 'Sense of Place' project, which aims to provide passengers with a sense of Ireland's culture and history while at the airport.