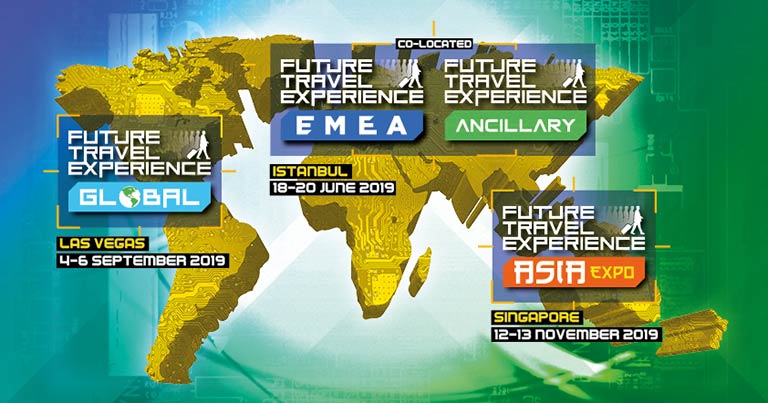 2018 has been a memorable year for Future Travel Experience (FTE), with a record number of people attending our renowned exhibitions and conferences around the world.
We have exciting plans in place for our 2019 events, which will take place in Istanbul, Las Vegas and Singapore. Mark your diary today and contact us if you would like to find out more about attending as a delegate or exhibiting at any of our 2019 shows.
Future Travel Experience EMEA & Future Travel Experience Ancillary 2019, 18-20 June 2019, Istanbul, Turkey
To commemorate the landmark opening of the new Istanbul Airport mega-hub, which opened on 29 October 2018, Future Travel Experience is taking its Europe show to Istanbul, rebranding it as Future Travel Experience EMEA, and co-locating it with FTE Ancillary and The New Airport Show Istanbul. These outstanding shows will collectively provide the perfect platform to bring together the world's airlines, airports, vendors, startups, OEMs, government agencies, destination partners and various other key travel industry stakeholders. They will gather in Istanbul to learn, network and collaborate on how technology, design and innovation can enhance end-to-end customer experiences and revenue opportunities at every step of the journey, and learn about the newest hub airport in the world first-hand.
Future Travel Experience Global 2019, 4-6 September 2019, Las Vegas, United States
Future Travel Experience Global 2019 has been specifically designed to help ensure that your organisation is well-equipped to adopt new technologies, adapt your working culture, and forge new partnerships to support your business' growth and passenger experience ambitions. The theme of the event is "Transformation" and we will shed light on the likely disruptions that will redefine air transport in our plenary sessions and help attendees forge their own transformation approaches through four inspiring conference streams. And that's not all – attendees will also have access to a major end-to-end exhibition, unique social and networking events, co-creation workshops, tours, government agency briefings, and startup content and showcases.
FTE-APEX Asia EXPO 2019, 12-13 November, Singapore
FTE-APEX Asia EXPO 2019, which will be delivered once more with the support of headline partners Changi Airport Group (CAG) and Onboard Hospitality, is Asia's biggest free to attend passenger experience and business performance expo. Building on the record attendance in 2018, when representatives from 101 airlines and airport operators registered, the 2019 event will provide an unrivalled platform for the industry's most innovative product, service and equipment providers from across Asia and beyond to showcase their airport and in-flight capabilities.
Interested in exhibition or sponsorship opportunities? Get in touch >>