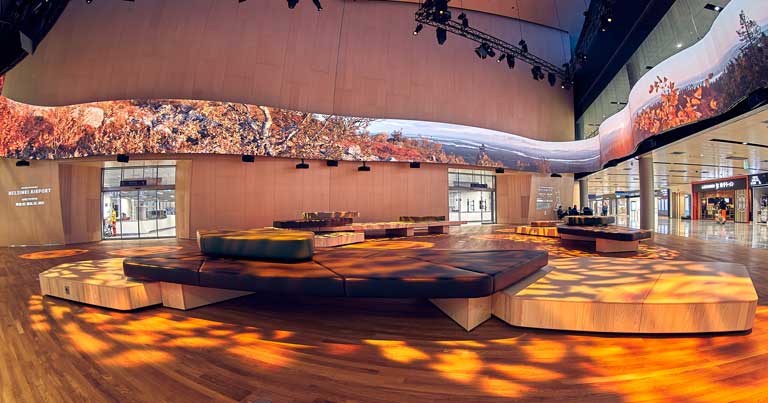 Helsinki Airport's new extension, Aukio, has been unveiled. As part of Finavia's investment in enhancing the customer experience, the Aukio expansion is designed to provide passengers with rest and relaxation before their flight.
"Aukio can rightfully be described as a display window for our country, as millions of international passengers get their first taste of Finland at the airport," says Joni Sundelin, Helsinki Airport Director, Finavia. "Our focus throughout development has been on ensuring that passengers are left with an exceptionally positive impression of Finnish design, smoothness, nature and peace."
The main feature of Aukio is the event plaza, where passengers can experience soothing and refreshing effects of nature through an immersive spatial experience.
"Locations where the event plaza's 360-degree landscapes were filmed include Koli, Olos, Luosto, Yövesi in Saimaa and the Kalevankangas nature reserve in Mikkeli," explains Heikki Koski, Chief Digital Officer at Finavia.
According to Koski, digitalisation is not the point; it is about the benefits it brings. For example, automation as a part of the new ultra-modern security control helps make the security process smoother and faster, as well as ensuring sufficient capacity. "In developing the security control, the focus has been on fostering a good employee experience, because content staff ensures good customer experience. We included security officers in the design process and made improvements to the ergonomics and equipment of the lines based on their feedback," Koski says. Examples of new technology used in the security control include an automated Smart Lane X-ray line, full body scanners and remote reading of X-ray images.
World-class shops and restaurants are an essential part of Aukio's offering. One of the highlights is the Japanese Ajisen Ramen Restaurant. The shopping selection includes high-quality Finnish brands as well as international favourites, such as the Toyland toy store.
Moreover, a Plaza Premium Lounge will be available from the end of February or early March. Passengers will be able to pay an entry fee, regardless of their travel class or airline membership. Eleven new commercial premises altogether will be opened at the airport.
Aukio is a part of Finavia's €1 billion development programme. Its intention is to secure Helsinki Airport's position as a leading European airport for travel between Asia and Europe while maintaining excellent flight connections between Finland and the rest of the world. The expansion will enable Helsinki Airport to serve 30 million passengers annually.
Sundelin added: "Finavia builds its investment programmes and plans its operations based on four basic pillars of experience. These are the feelings of leisureliness, rest, Finnishness and security. The customer experience is at the heart of our strategy."