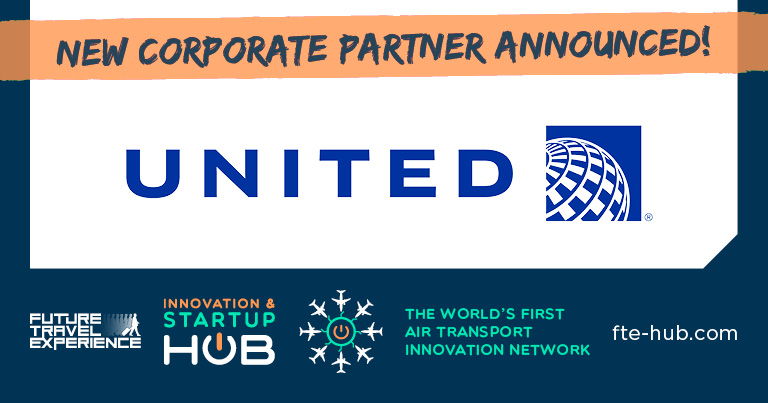 Future Travel Experience (FTE) has announced that United Airlines has become the latest carrier to join the FTE Innovation & Startup Hub.
United, which serves more than 350 airports globally, becomes the ninth Corporate Partner to join the FTE Innovation & Startup Hub, which is the world's first air transport innovation network. Other members include JetBlue Technology Ventures, Vantage Airport Group, Japan Airlines, Hamad International Airport and Hong Kong International Airport.
As a Corporate Partner, United Airlines has access to both the FTE Innovation Hub and the FTE Startup Hub. The Innovation Hub is the world's first innovation network for the organisations and individuals at the forefront of driving innovation in the air transport industry. The Startup Hub brings corporate innovators together with high-potential startups and scaleups in the aviation sector to explore potential collaboration opportunities.
John Painter, Director of Finance, United Airlines, stated: "At United, we've built a culture of innovation and view this partnership as a tremendous opportunity to broaden and deepen our engagement with travel startups. We look forward to exploring fresh concepts in this space and building new relationships to help us fulfil our fundamental purpose to connect people and unite the world."
Ryan Ghee, Head of Strategy, Engagement & Content, Future Travel Experience, commented: "The FTE Innovation & Startup Hub team is delighted to welcome United Airlines, a carrier with a strong history of innovation, on board as a Corporate Partner.
"We look forward to helping them connect and engage with fellow innovators from across the industry, ranging from like-minded, forward-thinking airlines and airports to early-stage startups with pioneering products and services."
Interested in becoming a Corporate Parter? Visit the FTE Innovation & Startup Hub website to learn more >>