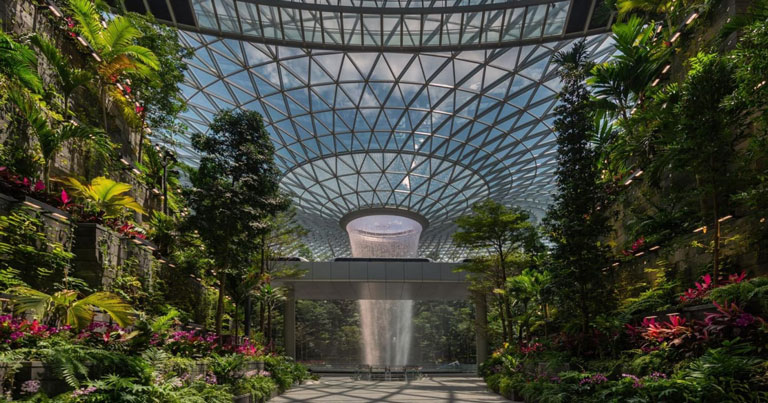 Public previews of the new Jewel Changi Airport have started, ahead of the official opening of the impressive airport complex on 17 April.
Selected members of the public were given a preview of the 135,700 sqm complex, built on the site of the former Terminal 1 open air carpark. The new facility is designed by world-renowned architect Moshe Safdie and features a distinctive dome-shaped façade.
Officially opening to the public on Wednesday 17 April 2019, more than four years after ground was broken on the development in December 2014, Jewel will offer travellers and visitors unique attractions, extensive shopping and dining experiences, as well as airport and accommodation facilities.
Ms Hung Jean, Chief Executive Officer of Jewel Changi Airport Devt., said: "The vision for Jewel Changi Airport is to be a destination where 'The World meets Singapore, and Singapore meets the World'. The unique proposition of world-class shopping and dining, seamlessly integrated with lush greenery, fulfils the needs of increasingly discerning travellers for a meaningful and experiential journey, even for brief layovers."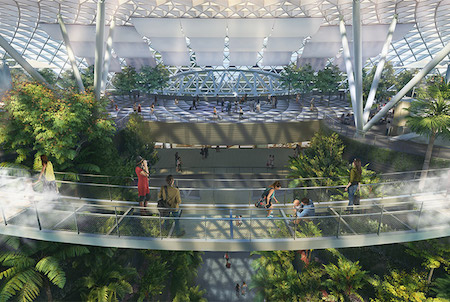 An impressive 40-metre HSBC Rain Vortex, the world's tallest indoor waterfall, will greet visitors upon entering Jewel. Other attractions include a Shiseido Forest Valley, Manulife Sky Nets, a Hedge Maze, a Mirror Maze and Discovery Slides, designed to blend into the unique indoor garden environment and will open on 10 June 2019.
Lee Seow Hiang, Chairman of Jewel Changi Airport Devt., and Chief Executive Officer of Changi Airport Group, said: "We are delighted to see the completion of Changi Airport's new jewel, which we hope will contribute to many more memorable Changi experiences for our passengers. Jewel Changi Airport is a valuable addition to Singapore's world-class tourism attractions and aviation facilities. We look forward to welcoming the world to Jewel, whether they are travelling to or through Singapore."
Jewel's top floor has been transformed into a Canopy Park, which will feature unique offerings such as play attractions, gardens, walking trails and dining outlets. Visitors will be able to enjoy new-to-Singapore brands including Emack & Bolio's, JW360˚, Lavender, OYSHO and Pokémon Center Singapore. Jewel also has a dedicated retail offering of homegrown brands on Level 1, meant to create a one-stop shop for travellers.
Moreover, Jewel will house the first YOTELAIR property in Asia. Travellers will be able to book a cabin for a minimum of four hours for short daytime layovers, or overnight stays. YOTELAIR also features airline style self-service check-in kiosks that will facilitate a hassle-free check-in process.
Directly connected to Terminals 1, 2 and 3, Jewel will offer a baggage storage service and early check-in counters and kiosks to ensure travellers have a stress-free experience while they make the most out of the airport experience.
In conjunction with the development of Jewel, Changi Airport's Terminal 1 has also been expanded to increase capacity by another three million passengers per year. This brings the airport's total capacity to 85 million, ensuring that it remains well placed to support the growth of air travel in the region.