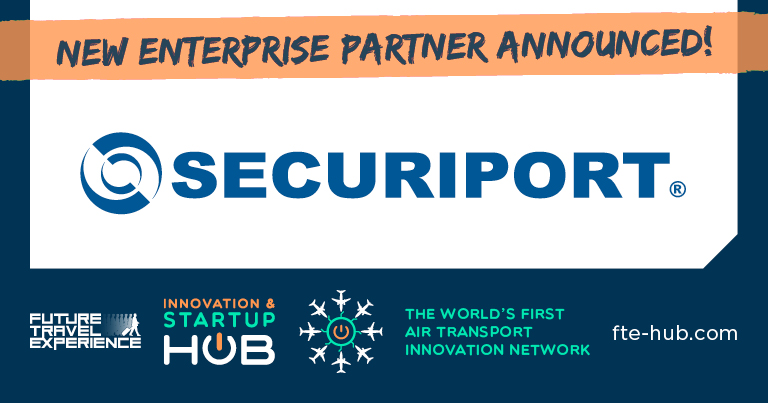 Future Travel Experience (FTE) has announced that Securiport has become the latest organisation to join the FTE Innovation & Startup Hub – the world's first air transport innovation network.
As the first non-airline or airport corporate partner to join, Securiport becomes the inaugural "Enterprise Partner"– a level of membership reserved for pioneering air transport industry vendors.
Securiport joins an impressive portfolio of existing partners, including United Airlines, Gatwick Airport, JetBlue Airways, Vantage Airport Group, Japan Airlines, Hamad International Airport, Southwest Airlines and Hong Kong International Airport.
Dr. Enrique Segura, Securiport CEO & President, said: "Securiport has been a leader in border security technology for the last 20 years, and we are honoured to partner with the FTE Innovation & Startup Hub. As big data analytics becomes a larger part of our core business, we look forward to connecting with the most cutting-edge partners in the air transportation sector. Through this platform, we will continue to explore and develop ideas to meet the needs of our global passengers, citizens and governments."
Securiport solves border security challenges with innovative technology solutions that keep citizens and travellers safe. The company leverages cutting-edge biometric technologies and advanced data analytics tools to provide authorities with the knowledge and assurance to ensure order and efficiency across transnational borders.
Ryan Ghee, Head of Strategy, Engagement & Content, Future Travel Experience, commented: "We are pleased to welcome Securiport into the FTE Innovation & Startup Hub. We look forward to working with them to advance the industry while supporting their engagement with the most forward-thinking airlines, airports and startups in the air transport sector.
"The important role that Securiport plays in the industry, coupled with its inventive mindset, makes the company an ideal partner for the FTE Innovation & Startup Hub. We're delighted that their industry experts will now be involved in this unique innovation network, starting with their participation in the next event in Las Vegas this September."