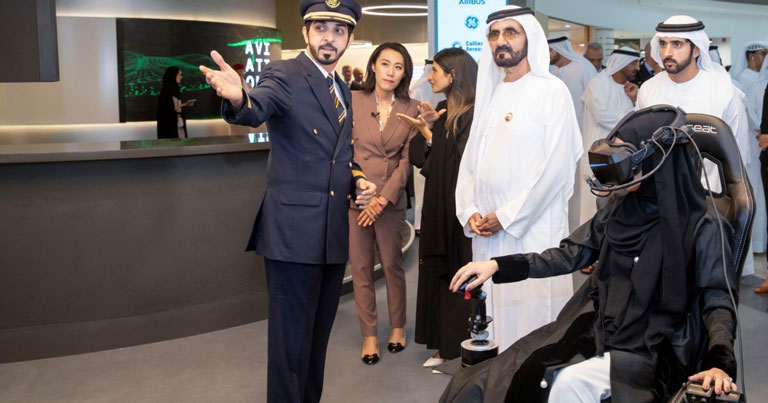 Today's aviation industry operates in a land of opportunities that are vast and require a radically different and innovative approach to fully capitalise on their potential. Aviation X Lab, an ambitious aviation-specific incubator which was unveiled last October, brings together some of the largest global pioneers, namely Emirates, Airbus, Collins Aerospace, GE Aviation and Thales, to address these challenges by championing moonshot-thinking, innovation and collaboration.
In partnership with Dubai Future Foundation, the programme has been launched to innovate and create the next era of aviation with its bold vision to positively impact the lives of one billion people. To find out more about the project, FTE spoke to Amna Al Redha, Project Lead of Aviation X Lab.
FTE: Aviation X Lab was launched in November last year in partnership between Emirates, Airbus, Collins Aerospace, GE Aviation, Thales and du as digital innovation partner. Can you please provide some more details on the initiative?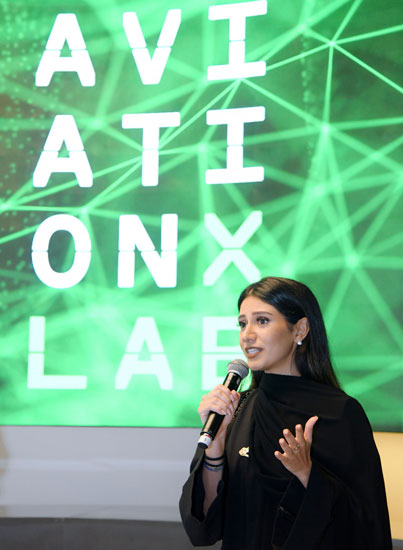 Amna Al Redha: "Aviation X Lab is a bold and ambitious aviation-specific incubator that brings together five global aviation giants: Emirates, Thales, Collins Aerospace, GE Aviation and Airbus. UAE telecom provider du is the Lab's Digital Innovation Partner. Based in Area 2071 at the Emirates Towers, Aviation X Lab was founded in October 2017 with an MOU signed in the presence of HH Sheikh Mohammed bin Rashid Al Maktoum, Vice President and Prime Minister of the UAE and Ruler of Dubai.
In partnership with Dubai Future Foundation, Aviation X Lab aims to enhance the air travel experience, innovate and create the next era of aviation through a sustained programme of funding and collaboration with global players in the innovation ecosystem. Its vision is to impact one billion people through innovation.
The cycles of 12 months are split into five key phases: launching challenges; sourcing brightest minds, startups and corporates globally; validating concepts; conducting rapid feasibility; and funding. Through this journey, The Aviation X Lab offers hands-on support, logistics, research, resources, peer feedback, validation, mentorship, and close collaboration or co-creation."
How are all of the partners working together to achieve this vision?
"The Aviation X Lab has a unique value proposition; it is the only platform that offers its participants direct access to five global aviation conglomerates. This access enables knowledge sharing, mentoring, validation and potentially co-creation. Our partners are directly and equally involved in all stages of the programme. We are open to all collaborations, and we are building a network from Academia, Research & Development, centres of excellence, startup hubs, incubators, accelerators, or any potential feeder that can help us solve our moonshots. Anyone is welcome to reach out to us."
What is the biggest motivation behind the Aviation X Lab?
"Our goal is to innovate, co-create and positively impact over a billion individuals through our moonshots. We are not here to work on quick solutions, or incremental innovations – our focus is on the next radical idea that will transform the aviation industry."
Are there any particular technologies or trends that you're really looking out for at the moment?
"Anything and everything. We want to be as open as possible because the less boxes and restraints we have in our sourcing process, the more room there is for creative innovation. Our focus is on ideas rather than technology, because with the right idea the technology component becomes part of the conversation rather than the conversation. Our challenges are "Carbon Negative Aviation Industry" and "Airport to Airportals", we are looking for the brightest and most radical ideas that can help us solve our moonshots. The topics chosen for this cycle are reflective of the aviation industry's focus today, and where opportunity lies for tomorrow.
What would be your advice to startups and individuals that are thinking of applying to the Aviation X Lab?
"We are looking for thinkers, change makers, creators and innovators. We are looking for the brightest minds, the most innovative startups that are thinking about the next wave of innovations and if you believe you are that person with that idea we encourage you to apply."
Interested in applying for the Aviation X Lab startup challenge? Visit theaviationxlab.com to learn more and apply by 8 March, 2020.