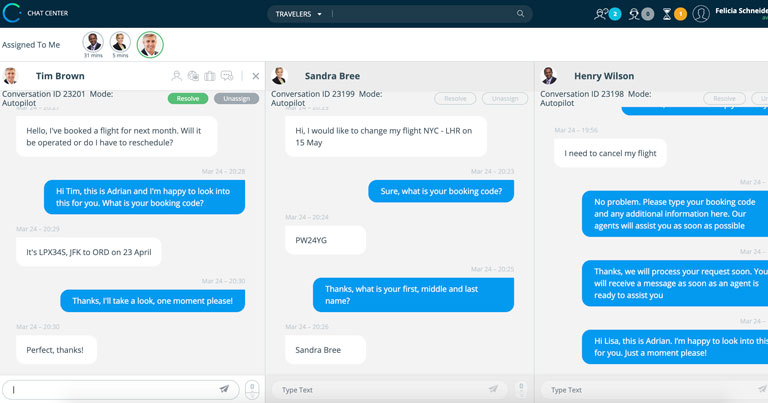 With COVID-19 we are facing an unprecedented situation and one of the most severe economic crisis in recent history. The airline industry is among the verticals hit hardest by the coronavirus. In other industries companies are coming forth to support each other and show solidarity in times of need. For instance, Facebook has put together a programme to offer $100 million in cash grants to small businesses, while through its Audible platform, the tech online retail giant has made a broad range of its content free for kids and teenagers who are unable to attend school due to COVID-19.
Following suit, FTE Startup Hub member 30SecondsToFly is offering its tool to help airlines solve their helpline bottlenecks free of charge. 30SecondsToFly is known as a provider of call centre automation technology for travel management companies. "With our artificial intelligence (AI) technology we automate many of the travel agents' most repetitive tasks so that they can focus on building relationships with their customers," says Riccardo Vittoria, Co-founder and CEO of 30SecondsToFly.
30SecondsToFly's clients include some of the largest travel management companies in the world, such as Flight Centre Travel Group, Adelman and Atlas Travel, among others. Just last November the company won Phocuswright's $100k General Catalyst Award for Travel Innovation being recognised as the most innovative emerging company in travel.
"When we realised how severely airline call centres are struggling, we decided to help, because we have a solution that can resolve their bottlenecks. Our technology already streamlines the call centres of the biggest travel management companies worldwide. A big part of it can be used by airlines to avoid having travellers waiting for hours on hold," says Vittoria. "COVID-19 may be scary but it might also be a valuable impulse to come closer together as an industry and help each other in times of need. That's why we will provide our solution at the minimum possible cost during the peak of COVID when it is most needed."
30SecondsToFly has designed the airline package as a light integration that is completely independent of the airline's tech stack which is why an implementation can be set up in less than eight days and does not involve any integrations by the airline's tech team. The technology will be connected to the airline's Facebook presence and handle the first traveller contact via chat. It will understand the traveller's intent and gather necessary information before passing the case to an agent. Travellers are updated regularly with their position in the queue as well as waiting times. When an agent is ready to assist them, the traveller receives a push notification. Instead of waiting hours at the phone the traveller can go on with their day in the meantime.
"Agents use our Chat Center tool to chat with up to three travellers at the same time. The asynchronous nature of chat conversations allows the agents to be twice as fast compared to having one conversation at a time on the phone. Since all traveller information is already collected by the AI the agent can go straight to solving the case for the traveler," says Vittoria.
For more information visit 30SecondsToFly's website.