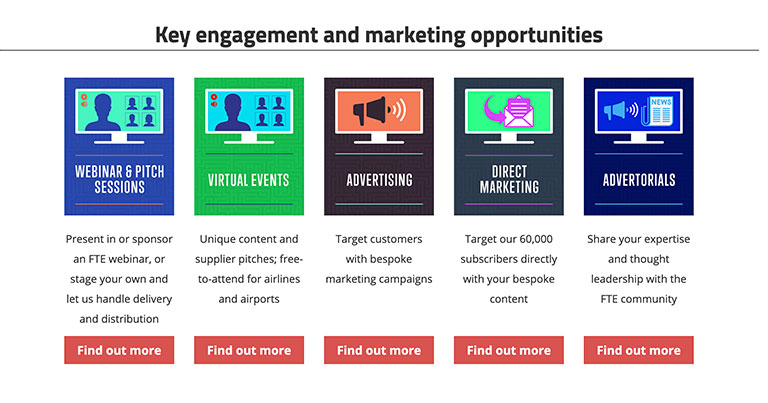 This is an unprecedented period for our industry – the COVID-19 pandemic is a black swan event but this crisis will serve to accelerate the digital transformation, automation and innovation efforts of the entire air transport and travel sector. Now is the time when industry stakeholders are reimagining what their organisation delivers and how it operates so it is a time of great opportunity for industry suppliers.
Stakeholders must still connect and engage to share ideas, propositions and visions, and whilst in the short term none of us can rely on the usual methods such as face-to-face meetings in offices or at industry events, Future Travel Experience (FTE) is making every effort to help to keep the industry connected in other ways. We can provide the most effective and unique business development platforms to help support your business during these unprecedented times.
The FTE website averages 100,000 page views per month and our e-newsletter has 60,000 subscribers. We offer various opportunities for industry suppliers to get their products, services and brand in front of airline and airport decision-makers, including:
Webinar & Pitch Sessions
Virtual Events
Online Advertising
Direct Marketing
Advertorials
Visit this page to find out more about each of these opportunities.