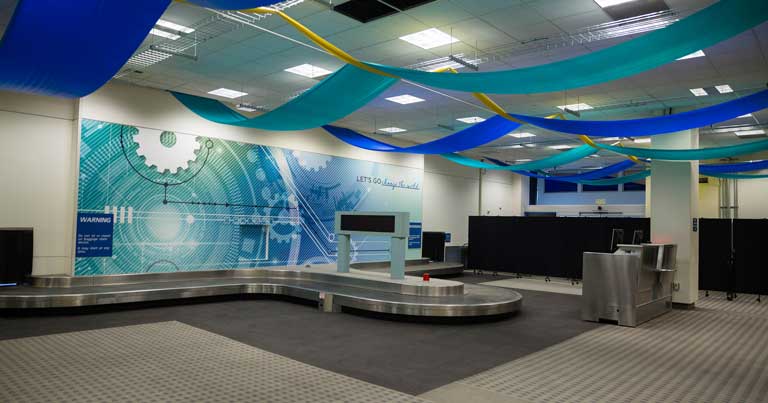 San Diego International Airport's (SAN) 16-week accelerator programme is underway with four companies that will have the opportunity to test their concepts in a real-world airport environment. The programme takes place in the Airport Innovation Lab.
The fourth group of innovators is largely focused on addressing two key focus areas – reducing waste and enhancing the passenger experience.
The companies have been participating in a full-virtual programme since mid-March and will test their solutions at SAN this the summer. The airport innovation team pivoted to the virtual format due to impacts of COVID-19 and has held virtual workshops, sessions with subject matter experts from the Airport Authority, and enhanced virtual networking sessions.
The Airport Innovation Lab occupies part of the former Commuter Terminal building at SAN and provides an opportunity for companies to test their solutions in a controlled environment before they are reviewed and approved to move into a passenger facing environment. The four companies and their concepts are:
SkyLights – offering clean and safe-to-use VR headsets that provide an immersive entertainment solution for passengers in-flight and in the airport.
ZeroWaste – a smart waste bin, enabled with auto-sorting robotics, which accepts waste and grinds it into small pellets and packages the raw sorted material.
Encora – providing reusable food and beverage containers that utilise software and QR/RFID chips to assist users in depositing containers in a designated smart collection station for on-site cleaning and future use.
Keko, Inc. – providing reusable dishware in a smart and safe package with a contactless pick-up experience.
Kimberly J. Becker, President/CEO, San Diego County Regional Airport Authority, said: "It is truly impressive to see these companies adapt their work environments during COVID-19 and continue to develop solutions to everyday issues that exist at airports around the country. The Innovation Lab is potentially the launching pad for ideas that can enhance airport business and the passenger experience. These solution-driven concepts that work at SAN will add to our ability to deliver a positive experience nonstop."
The accelerator programme takes 16 weeks and the innovators have the opportunity to win a contract from the San Diego County Regional Airport Authority, the airport's owner and operator, and gain entry to other airports and analogous businesses including transportation hubs, convention centres, shopping malls and other large venues such as ballparks, theme parks and hotels.
"This is an exceptional batch of innovators and we are already extremely impressed with their perseverance and resilience," said Rick Belliotti, Director of Customer Experience & Innovation at SAN. "These companies offer ground-breaking ideas, and they are driven by determined founders. We have confidence that these solutions, if successful at SAN, will not only add to our customer experience but will evolve and survive as the travel experience changes."
The unique Airport Innovation Lab was launched to reduce barriers for innovators to break into the aviation industry. The 3,500-square-foot space in the former Commuter Terminal offers a functional mini-terminal area with ticket counters and a bag claim carousel, all without passenger or security concerns to work around.