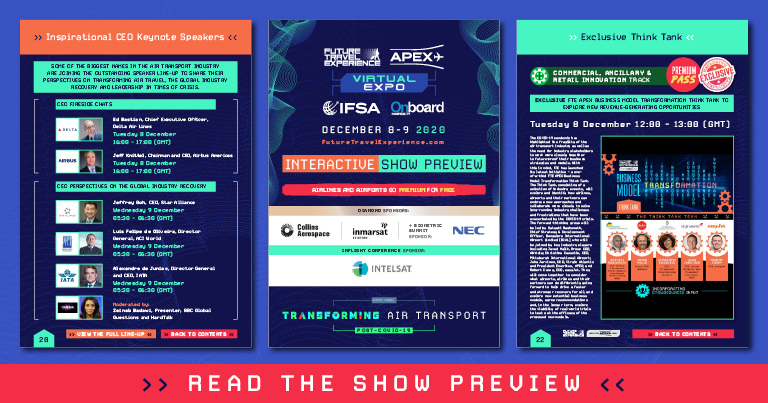 Click here to read the Show Preview
Get an exclusive sneak peak of FTE APEX Virtual Expo, co-located with IFSA Onboard Hospitality Virtual Expo, in our digital Show Preview magazine. The two-day event, taking place on 8 and 9 December, is expected to attract 8,000+ attendees and over 100 senior industry executives are already confirmed to speak in support of our "Transforming air transport post-COVID-19" theme.
This interactive digital magazine provides a comprehensive guide of what to expect and how you can benefit from attending the air transport industry's first major digital trade show. Get to know our exhibitors and speakers, and mark your diary for a number of exclusives, including a sensational line-up of CEO keynotes, a new FTE APEX Think Tank exploring new revenue-generating opportunities, APEX Tech sessions, and a live broadcast of the APEX/IFSA Board of Governors Meeting.
Inside you'll find:
A full list of confirmed CEO keynote speakers from Delta Air Lines, Alaska Airlines, Los Angeles World Airports, Munich Airport, Star Alliance and many more
Conference highlights from the Auditorium conference and OnDemand Speaker Zone
Virtual Networking Sessions schedule
A-Z exhibitor list
Live exhibitor product demo schedule
Winners from the Trailblazer Showcase and AVIATIONVSCOVID19 challenge