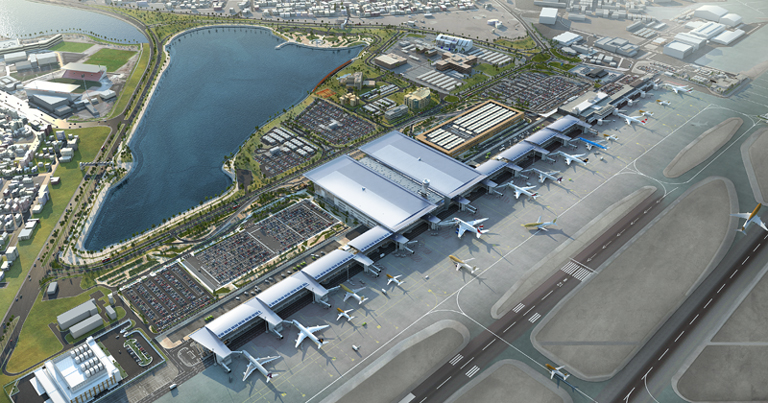 Bahrain International Airport's new passenger terminal began operations on 28 January, marking a new era for the Kingdom of Bahrain's aviation sector.
The new terminal is four times the size of the legacy airport and designed to deliver a more personal, Bahraini feel.
Equipped with the latest technologies in the market and supported by new infrastructure, it increases the airport's capacity to 14 million passengers per year, delivering a hassle-free airport experience and the highest standards of luxury.
The Minister of Transportation & Telecommunications and Bahrain Airport Company (BAC) Chairman, Eng. Kamal bin Ahmed Mohammed headed a delegation travelling to Abu Dhabi aboard the inaugural Gulf Air flight from Bahrain International Airport's (BIA) new Passenger Terminal. The delegation included BAC's Chief Executive Officer Mohamed Yousif Al Binfalah, Chief Development and Technical Officer, Abdulla Janahi, Chief Commercial Officer, Ayman Zainal, government officials, and members of the media.
The project is funded by the Abu Dhabi Fund for Development (ADFD), which is financing the USD1.1 billion Airport Modernization Program (AMP) through a grant offered as part of the GCC Bahrain Development Program. Launched in February 2016, the AMP is the largest investment in Bahrain's aviation sector to date.
HE Ahmed Mohammed said: "This milestone achievement is a prime example of cooperation between GCC countries. The AMP is a pillar of the Bahrain government's economic plan, which reaffirms the pioneering and historical position that the Kingdom enjoys in the aviation sector. The new airport is a significant addition to the country's infrastructure and will support Bahrain's long-term economic and tourism goals, catalysing growth in all economic sectors. It also supports the continued growth in regional and international air traffic, building on the Kingdom of Bahrain's legacy as a link between the east and the west and its strategic location as a regional crossroad."
The transfer to the new terminal brings the Transportation & Telecommunications and its partners a major step closer to the completion of the AMP, which includes several other strategic projects. These include the development of a Fuel Farm Complex that will reinforce Bahrain's position as a centre of aviation fuel services in the GCC, and a private aviation terminal serving businessmen and private aircraft owners.