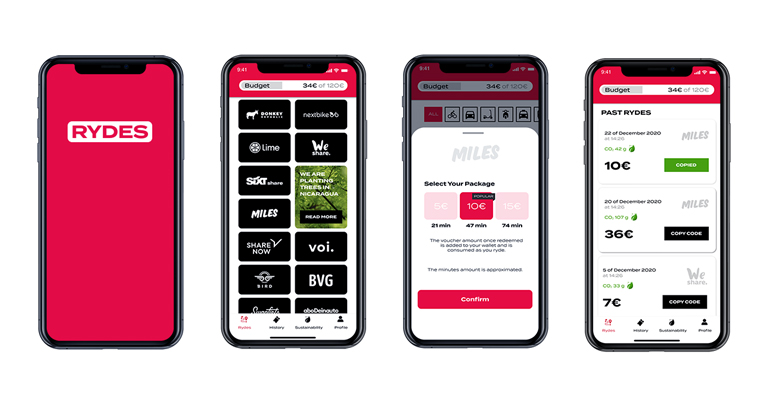 Lufthansa Innovation Hub has spun off its RYDES brand, a mobility startup that was originally founded in 2018.
The app was initially designed to reward travellers for using public transport services and enabled them to use reward points for free minutes on transport, free coffee or build them up for Amazon vouchers.
RYDES has now released new functionalities, enabling travellers to find and book different elements of transport. The startup bundles existing mobility offers in one app and makes them accessible via the "Mobility Budget".
The new product allows companies to provide their employees with a monthly budget that they can use for various mobility services. These include car and bike sharing services, e-scooters, shared taxis, and public transport services. The different mobility providers are integrated into the RYDES app and users can use the app to book their trips and manage their budget.
Moreover, all journeys booked through RYDES are offset via the "Compensaid" platform, making them CO2 neutral.
Gleb Tritus, Managing Director at LIH, says: "The spin-off and subsequent funding for RYDES has been a great success. Once again, we are proving that startups from corporate digital units can adapt to market conditions."
Forward31, the company builder of Porsche Digital, is contributing with its expertise and resources to the venture. Both Porsche and the Lufthansa Group are now strategic minority shareholders in the startup.
Tritus added: "With Forward31, Porsche's company builder, we have gained an important strategic partner that shares and further enhances our vision of a seamless mobility chain."
RYDES says that it focuses on companies that want to offer mobility to their employees as an additional benefit. The new functionalities are also meeting the demand for mobility services that is emerging in the context of "new work" and the trend towards flexible and decentralised employment. RYDES' first customer is the flex-office provider WeWork.
"We are completely rethinking employee travel and creating flexible and open access to mobility," says René Braun, who developed RYDES at the Lufthansa Innovation Hub and is responsible for the newly established company as its founder. "Rather than enticing employees with a company car, companies promote their mobility in a flexible and sustainable way via our app. Moreover, mobility providers can generate additional business by being integrated into our platform."