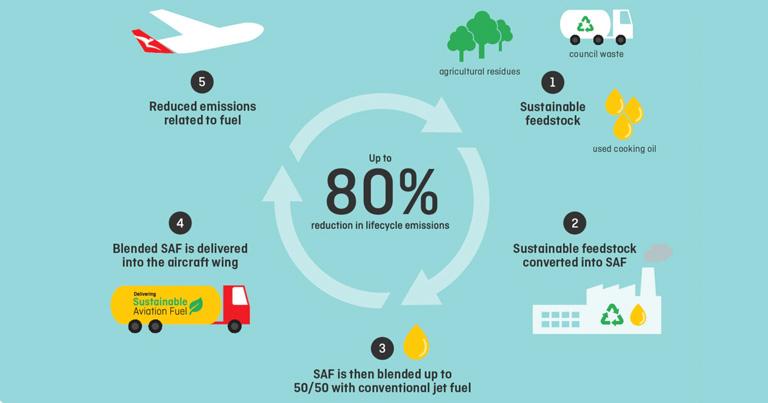 Qantas is expanding its use of sustainable aviation fuel (SAF) by tapping into supplies in California to help reduce carbon emissions on its flights from Los Angeles and San Francisco to Australia.
SAF produces up to 80% less emissions than traditional jet kerosene and is compatible with existing aircraft. US biofuels company Aemetis will supply almost 20 million litres of blended SAF each year for Qantas flights, starting in 2025.
"Climate change is front of mind for Qantas, our customers, employees and investors, and it is a key focus for us as we move through our recovery from the pandemic," said Alan Joyce, CEO, Qantas Group. "Operating our aircraft with sustainable aviation fuel is the single biggest thing we can do to directly reduce our emissions. Qantas has already committed $50 million to support the development of a SAF industry in Australia, and we'd be its biggest customer. As well as the environmental and economic benefits, a local SAF industry would reduce the nation's dependence on imported fuels."
This is Qantas' second major offshore purchase of SAF, with flights from London using a blend of sustainable fuel since the start of this year. The airline is pursuing a number of additional deals to add more SAF in the US and other international airports. It aims to be net carbon neutral by 2050 and will outline an interim target later this month.
"The 90 million gallon per year sustainable aviation fuel and renewable diesel plant under development at the 125-acre Riverbank Industrial Complex near Modesto, California is uniquely located to utilise zero carbon intensity hydroelectric power, local waste wood and non-food feedstocks to produce low carbon jet fuel," said Eric McAfee, Chairman and CEO, Aemetis.
The deal follows Qantas signing an agreement with oneworld partners last year to consider purchasing SAF from Aemetis for use out of Californian airports.
Qantas' net zero 2050 strategy
The Qantas Group has four pillars to support its target of net zero emissions by 2050:
Sustainable aviation fuels – working with governments and bioenergy providers on the development of a sustainable aviation fuel industry in Australia and international supply in key ports.
Fleet modernisation – investing in next generation and lower emission aircraft, which reduce fuel burn.
Operational efficiency – reducing single use plastics and waste to landfill, as well as ongoing work to reduce fuel burn, including through smarter flight planning.
Carbon offsets – investing in high quality flagship Australian and international projects.