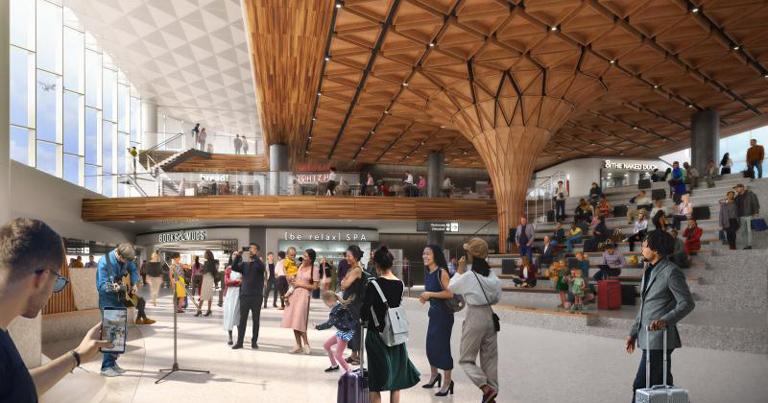 Seattle-Tacoma International Airport (SEA) has revealed design renderings of its next $340 million capital improvement project.
The project spans the C and D Concourses and will include an additional 145,530 sq ft of dining and retail space, a new Alaska Airlines Lounge, as well as new amenities such as an Interfaith Prayer and Meditation Room and Nursing Suite. The Grand Stairs at C area will be at the epicentre of the space, featuring seating, airfield views, music and art, and an upstairs area with dining and retail options. The expansion also encompasses office space for airport businesses, airlines, and the TSA.
"We have a clear vision for how the airport will look and feel in the coming years," said SEA Managing Director Lance Lyttle. "Making your experience less stressful and more predictable is at the centre of our vision. You can feel the difference now at the newly modernised N Concourse and soon to open International Arrivals Facility. The C Concourse Expansion is what's next in how SEA serves travellers, and we can't wait."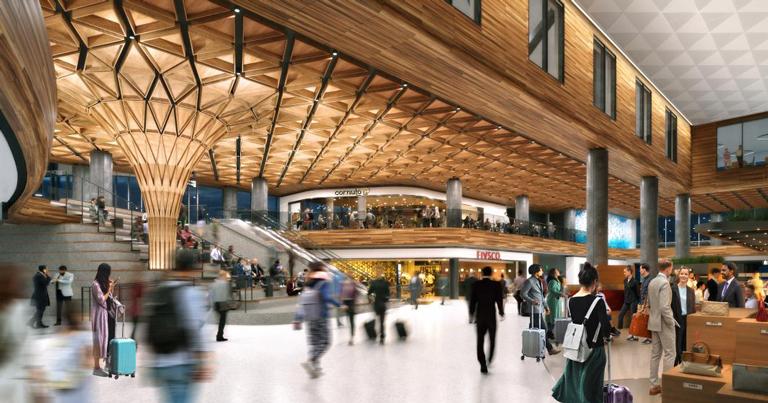 Miller Hull and Woods Bagot are leading the project's design concept, which aims to create an interplay of environments between the natural landscapes of the Pacific Northwest and the energy and vibrancy of Seattle.
The forests of this region also inspire the building's design. The light solariums and the canopy feeling of the stairs are created by Douglas fir coffers in the ceiling, transitioning down to a singular pillar, to recreate the scale of a Pacific Northwest forest.
C Concourse Expansion is the first project of its kind to follow the Port of Seattle's Sustainable Project Framework, a process to transparently evaluate alternative, sustainable approaches to build capital projects where environmental and societal impacts inform project design, alongside cost and schedule.
The sustainable features of this project will set the precedent for future capital projects at the Port, including:
Rooftop photovoltaics and a solar panel array is projected to provide 15 percent of the C Concourse Expansion energy demand.
Creating fossil fuel free systems for heating and tenant hot water and equipment with electricity that will save Scope 3 greenhouse gas emissions.
Electrochromic glazing for windows will reduce peak cooling loads and annual cooling energy consumption.
Installing dishwashing capability will reduce solid waste from disposal dishware and space for donated food storage will support the airport's existing partnership with the Des Moines Area Food Bank.
Embodied carbon reduction strategies such as lessened steel tonnage and associated manufacturing impacts and decreased cement quantity.
Low-flow water fixtures that conserve potable water and a purple system to connect to future reclaimed water supplies.
Biophilic design principles will create a connection to the outdoors with natural lighting, landscape features and other elements for a sense of well-being for travellers.
Early work is slated to begin this summer with major construction beginning in mid-2023 and construction projected to complete in 2027. Turner Construction is the GCCM (General Contractor – Construction Manager) and The Port is receiving Project Management and Construction Management support from Jacobs and Parametrix. Turner will open bid opportunities for this work on March 22, 2022.