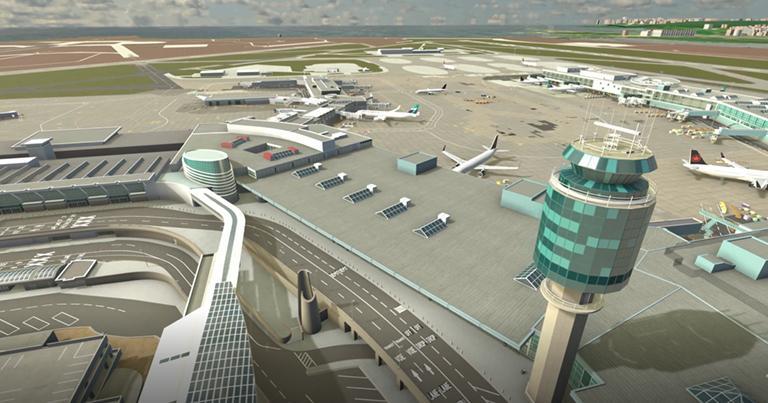 Vancouver Airport Authority is continuing its digital transformation with the launch of new digital twin platform.  The new Vancouver International Airport (YVR) digital twin is the first major initiative from YVR's Innovation Hub, with the aim of transforming how the airport serves its employees, passengers, and local community.
YVR will leverage the digital twin to improve the passenger experience and lead innovation outside its core aviation business, becoming the region's "Gateway to the New Economy".
The digital twin platform is a virtual, real-time interactive representation of YVR's terminal and airfield. It's a digital tool that visualises data, facilitating training, optimisation, future planning, simulation, testing, and more. By integrating sensors, along with historical and real-time data into the platform, the digital twin can present key information through 2D or 3D visualisation, enabling data-driven decision-making and collaboration.
"At YVR, we want our people to have the tools they need to succeed in a dynamic environment and the digital twin technology solves many airport-related challenges," said Lynette DuJohn, Vice President, Innovation and Chief Information Officer, YVR. "For example, if there's congestion at any check-in point, an alert is generated which we can click into to see live information about what is going on. This allows our operations and security team to address potential issues with corrective action, allowing our employees to find efficiencies through technology, creating a better experience for travellers."
The airport is also trialling the use of its digital twin to model aircraft movements and activity on the airfield, in order to reduce emissions. Meanwhile, in the coming months YVR, with its partners and stakeholders, will advance ideas and solutions to support the community and deliver industry disruption through the digital twin. The platform serves as a digital learning ground for 'Innovation Hub @YVR', through which the airport plans to collaborate with local businesses and the community to lead the region's economic recovery.
"YVR is more than an airport," said DuJohn. "We are looking to expand our role and connect our community and economy to data, ideas, and new technology. While the COVID-19 pandemic, and subsequent hit to the aviation industry, accelerated our desire for digital transformation, our vision for the digital twin is bigger than our operation, it's centred around people – our employees, passengers, our Musqueam friends and the community we serve."
YVR's digital twin technology is developed in part with Unity – a platform for creating and operating real-time 3D content, Vancouver-based GeoSim Cities which provides large-scale precision 3D modelling, and Thynkli – a local company providing expertise in digital business transformation.