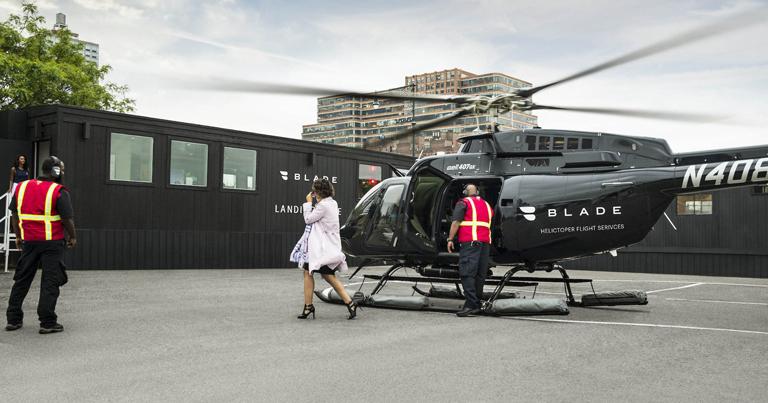 JetBlue has announced a new partnership with transportation company Blade to offer helicopter service to members of its loyalty programme. With the partnership, loyalty programme members will be able to get from John F. Kennedy International Airport and Newark Liberty International Airport to Manhattan via Blade helicopter service in as little as five minutes.
Mosaic+ members will now begin receiving credits that are redeemable for complimentary seats on Blade airport helicopter transfers through the new partnership, when connecting to or from JetBlue flights. Credits can also be used for a Mosaic+ member's eligible travel companions.
Starting 1 July, Mosaic members will receive 25% off their first-ever Blade Airport trip and TrueBlue members will receive 10% off their first trip when connecting to or from JetBlue flights.
"We know the JetBlue journey starts long before our customers step aboard one of our flights, which is why we are making more of the entire travel experience even easier and even more rewarding," said, Chris Buckner, Vice President of Loyalty & Partnerships, JetBlue. "This partnership will help us further evolve and enhance our TrueBlue program so our most loyal customers can enjoy more perks more often."
"We look forward to enabling loyal JetBlue fliers to fly between the city and area airports in as little as five minutes," said Melissa Tomkiel, Blade's President. "Given its New York City roots JetBlue is an ideal partner as we continue to ramp up our Blade Airport service to six days a week and up to thirteen hours per day in New York City."
JetBlue becomes the only U.S. airline to offer an airport transfer partnership of this kind and will provide TrueBlue members access to Blade through 2023.
Hear from JetBlue's Head of Customer Care and Programs Ed Baklor at the upcoming FTE Global 2022 show in Las Vegas on 6-9 September, who will share strategies on reimagining end-to-end customer and baggage journeys with new approaches powered by technology, design, collaboration and new service approaches. Register here to take advantage of our for early bird rates, which expire on 22 July 2022.