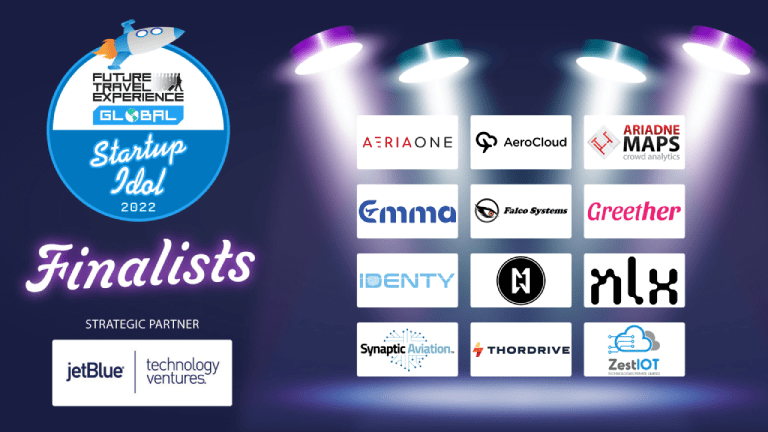 A total of 12 startups have been selected to pitch in the finals of the inaugural Future Travel Experience Startup Idol competition at FTE Global 2022 (6-9 September, Las Vegas).
Delivered with the official support of JetBlue Technology Ventures, FTE Startup Idol 2022 focuses on three of the most pertinent air transport industry topics: Sustainability, Automation & Workforce, Digital Identity & Security.
Following a global application process, 12 startups have been selected to pitch in the semi-finals at FTE Global in Las Vegas, and one from each category will advance to the FTE Startup Idol finale, which will take place during the conference on 8 September. The overall winner will then be decided by an audience vote. The 12 finalists are:
Category: Automation & Workforce
AeroCloud Systems – provider of AI software for airport operations with the mission to provide a solution to the complex challenges that airports face.
Ariadne Maps – the operating system of airports that provides advanced, real-time passenger analytics enabled with award winning accuracy and certified privacy compliance.
Moonware – optimises real-time ground operations for airlines through proprietary software and IoT.
NLX – its Conversational AI SaaS products help brands transform their customer interactions into automated, personalised self-service experiences.
ThorDrive – transforming the movement of cargo and baggage on the ramp with fully autonomous tractors.
Category: Digital Identity & Security
Identy Inc – offers multi factor authentication from any mobile device with a camera; based on touchless biometrics, enabling extraction of the user identity through a picture of a user's fingers.
Falco Systems LLC – dedicated to increasing security and improving business processes through the use of biometric and face recognition technology.
AeriaOne – FaceMatch allows passengers to pre-register their face and passport, and any other required travel information, during their check-in process at home or at the airport.
Category: Sustainability
EMMA Systems, Inc. – uses AI to help airport stakeholders visualise real-time data and sensory information by monitoring key parameters, conditions and systems to optimise overall efficiency and safety, and improve sustainability.
Greether – targets two of the most important SDGs and sustainable UN development goals, which are to reduce safety risks for women and to increase income opportunities for them through sustainable tourism practice.
Synaptic Aviation – uses Artificial Intelligence and Computer Vision technology to optimise ground operations and lower fuel burn.
ZestIOT Technologies Pvt Ltd – uses IoT, Video Analytics, AI/ML & ADS-B data to optimise the aircraft turnaround process and improve sustainability.